Welcome to the 471st Edition of my series. We have had a really good run on 1776. There is still next weekend. It is on Friday and Saturday at 8 pm and Sunday at 2 pm. It is at the Ivy Tech in Noblesville and tickets are $18 for adults and $12 for children. I have enjoyed being part of this great cast and am glad to return to the Belfry group. It has not been the easiest with the weather but has been worth it. I will get to my selections for the week.
Justice League: War (2014): I start the week out with this animated superhero movie. This is more of a prequel for the Justice League where Superman, voiced by Alan Tudyk, Wonder Woman, voiced by Michelle Monaghan, Batman, voiced by Jason O'Mara, Green Lantern, voiced by Justin Kirk, the Flash, voiced by Christopher Gorham, Cyborg, voiced by Shemar Moore, and Shazam, voiced by Sean Astin and by Zach Callison as Billy Batson, all team up to take on a world threat lead by Darkseid, voiced by Steve Blum. Each of them starts out working alone but circumstances bring them all together. I find there was a lot of mixed reaction to this movie. The characters are portrayed a little differently. This is from DC's New 52 series which was a revamp and relaunch. I read that in the comic books that Aquaman was part of this one but in this movie is replaced by Shazam which is a character I have never really been into. I did like the origin story used for Cyborg which is a character I have never looked into in-dept and was a good story of a trouble father/son relationship. Ioan Grufford provides the voice for Thomas Morrow in this movie. People who are the comic geeks may not like this. The more casual fans like me should get some enjoyment out of it even if it is not the best of the animated movies.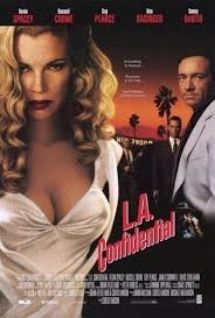 L.A. Confidential (1997): This is part two of my three part David Strathairn series. Curtis Hanson directed this film which based on the novel by James Ellroy. This takes place in '50s L.A. in this tale of police corruption and Hollywood sleaze. There has been a string of murders being investigated by three very different cops but out for the same thing. The first cop is Ed Exley, played by Guy Pearce, who looks to do everything by the book which does not make him very popular. The second cop is Bud White, played by Russell Crowe, uses very violent means in order to get to the truth. The third cop is Jack Vincennes, played by Kevin Spacey, who is out for the publicity. Kim Basinger, Danny Devito, James Cromwell, Ron Rifkin, Matt McKoy, Paul Guifoyle, Simon Baker, and many others co-star in this film. Basinger is great in her Oscar winning role. The rest of the cast also did really well. This is a very complex film and centers on quite a few characters but is a great homage to the era. There are also some good twists in this one.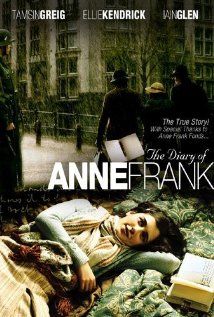 The Diary of Anne Frank (2009): This is based on her diaries when her family, among others, hid from Nazis in Amsterdam. Ellie Kendrick stars as the 13 year old girl who does what she can to make the most of having to hide out in the upstairs of her father's business. In the process they take in another family and others for them to hide out as well. They must all learn to work through the differences as the tensions mount being stuck in the fairly small space. Iain Glen, Tamsin Greig, Felicity Jones, Ron Cook, Geoff Breton, Kate Ashfield, Nicholas Farrell, and Leslie Sharp co-stars in this moving and sad drama. I just cannot imagine life for the Jewish in this era that fell victim to the Nazi regime and could not live their lives they way they wanted. This gives good narration of passages that are from the diary. This is a really good version which deserves a look.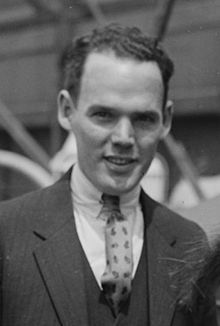 Matinee Idol (1930): This is my short film for the week. This is where a Broadway star visits a playwright who deems a scene written as unrealistic in regards to adultery but learns all to well that it is not as unrealistic as he thought. There were some interesting things they got away with in the pre-code and was pretty funny in its seven minutes.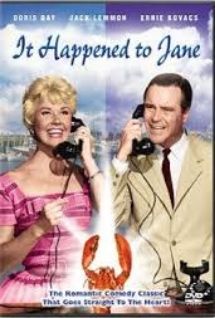 It Happened to Jane (1959): This is my romantic comedy for the week. Doris Day stars as Jane Osgood who is a single mother trying to support her two children by running a lobster business. Her business becomes difficult when her latest shipment is ruined by inattention at the railroad station and takes on Henry Foster Malone, played by Ernie Kovacs, who manages the train station and is considered "the meanest man in the world". Jack Lemmon co-stars as George Denham who is a lifelong friend of Jane and is an attorney. Together, they sue Malone for the price of her lobsters and lost business and will not settle for anything else. This is a pretty good David vs. Goliath story and a pretty funny comedy that takes a shot at American business types. Jack and Doris made a good team but was their only teaming and the movie is not as remembered but maybe this will put it on the radar.
Sleeping Beauty (1959): This is my Disney film of the week which I had the pleasure to see it on a bigger screen at my local library. Princess Aurora is our princess in this one and she is cursed from the day she is born by the evil and bitter witch Maleficent, voiced by Eleanor Audley. Aurora is raised by three fairies in order to keep her on the radar in hopes of preventing Aurora's curse when she hits the age of 16. I believe this one has the best prince in Prince Phillip as well as the best villain in Maleficent with a pretty disturbing climax. This can fit very well into a Disney marathon, especially for a Disney Princess marathon. I have not seen the recent movie of MALEFICENT but may have to view it sometime.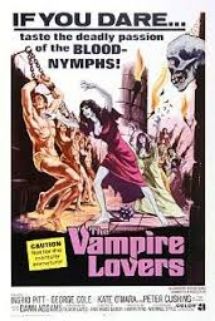 The Vampire Lovers (1970): This is my Hammer Films selection for the week. Ingrid Pitt stars as Camilla who is a vampire and targets a rich and remote area in the 18th century. She targets a family, mainly Emma, played by Madeline Smith. Peter Cushing, Kate O'Mara, and Jon Finch all co-star in this gothic tale. This focuses more on the female vampires which was different at this time. It also has some moments of eroticism. This is a decent and more underrated Hammer entry and is good for fans of the genre. Pitt does a really good job as Camilla and is a good, atmospheric tale. This is available on Instant Netflix.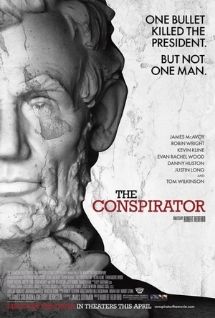 The Conspirator (2010): Robert Redford directed this film based on the trial of Mary Surratt, played by Robin Wright, who was the only woman accused of conspiracy on assassinating President Lincoln. Surratt owned a boarding house which housed Lincoln's assassin John Wilkes Booth, played by Toby Kebbell, and the other conspirators. James McAvoy co-stars as Frederick Aiken who has just become an attorney and is assigned to defend Surratt with much reluctance for reasons like being on the other side for the civil war and at first believing with the others she is automatically guilty. The more he gets to know Surratt, the more he believes she might be innocent but finds it very difficult to get her the fair trial as he has a lot of limitations on things like witnesses for the trial. There are flashbacks to the planning of the assassination which involved her son John, played by Johnny Simmons, and his conspiring with Booth. Kevin Kline, Evan Rachel Wood, Tom Winkinson, Justin Long, Danny Huston, James Badge Dale, Colm Meaney, Alexis Bledel, Jonathan Groff, Norman Reedus, Chris Bauer, and many others co-star in this film. This is a really good movie on the trial system for events like these and has a great cast with really good performances. This is available on Instant Netflix and a good historical drama on the aftermath of Lincoln's assassination.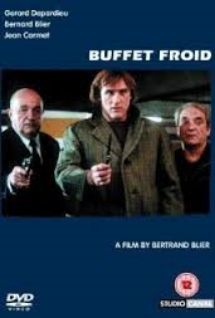 Buffet Froid (1979): Bertrand Blier wrote and directed this French film as well as playing Inspector Morvandieu. Gerard Depardieu stars as Alphonse Tram who has an encounter with a man at a train station where an argument ensues and he loses his knife. Later, he discovers the man with his own knife. The inspector turns out to be his next door neighbor and Alphonse tries to talk to him about it but the inspector wants to hear none of it. In the next part, Tram's wife is murdered and a man, played by Jean Carmet, comes to confess but Tram does not really seem to mind nor does the police officer. This is a black comedy on solitude and dehumanization of the modern world. It is a rather bizarre film at times but still manages to give a lot of laughs. Carole Bouquet also co-stars in this film. Depardieu gives a great comedic performance and the three actors worked well together. This is available on Instant Netflix and is a rather hidden French film that was a pretty fun and strange watch.
Wild Bill (2011): I end with this independent British film which was directed and co-written by Dexter Fletcher. In trying to find my 10th film, I came up with a list of 10 movies from my Netflix queue that I felt might fit the mold for this week and asked my friend David to come up with a number between 1 and 10 and his number lead me to check this one out. Charlie Creed-Miles plays the title character who has been paroled after eight years in prison. He returns home to find his 15 and 11 year old kids Dean, played by Will Poulter, and Jimmy, played by Sammy Williams, fending for themselves after their mother has left. At first Bill does not want to be a father at first and Dean has a job and tries to be a father to Jimmy. Bill's presence has drawn attention from social services and Dean makes him stay at the house for a week so they don't get put in homes and threatens to get Bill on dealing if he does not go along. In his time at home, he slowly forms a bond with his kids but sees that Jimmy is becoming him in a life of crime and looks to stop him from going down the path. Olivia Williams, Jason Flyming, and Andy Serkis also co-star in this film. Creed-Miles does a great job as the title character and I'm sorry if you were expecting Wild Bill Hickok. This is a really gritty film on British ghetto life and has really well-written characters along with a good story. This is available on Instant Netflix and is really worth a look.
Well, that is it for this week. Tell me what you like and dislike. Stay tuned for next week which so far includes Mena Suvari, and many others.
FUN AND USELESS FACTS
Sean Astin (Justice League: War) and Andy Serkis (Wild Bill) co-star in Peter Jackson's LORD OF THE RINGS TRILOGY and do not get along very well in these movies.
Sean Astin (Justice League: War) and Danny Devito (L.A. Confidential) were in the 1989 film THE WAR OF THE ROSES.
Alan Tudyk (Justice League: War) and Olivia Williams (Wild Bill) were in the tv series DOLLHOUSE.
Alan Tudyk (Justice League: War) and Russell Crowe (L.A. Confidential) were in the 2007 film 3:10 TO YUMA.
Alan Tudyk (Justice League: War) and James Cromwell (L.A. Confidential) were in the 2004 film I, ROBOT.
Steve Blum (Justice League: War) provides the voice for Superman's main rival Lex Luthor in the 2013 animated movie JUSTICE LEAGUE: THE FLASHPOINT PARADOX. Kevin Spacey (L.A. Confidential) plays Luthor in the 2006 movie SUPERMAN RETURNS.
Ioan Gruffudd (Justice League: War) and James Cromwell (L.A. Confidential) were in the 2008 movie W.
Ioan Gruffudd (Justice League: War) and Gerard Depardieu (Buffet Froid) were in the 2000 movie 102 DALMATIONS.
Justin Kirk (Justice League: War) and James Cromwell (L.A. Confidential) were in the 2003 HBO mini-series ANGELS IN AMERICA.
Kevin Spacey (L.A. Confidential) and Robin Wright (The Conspirator) are husband and wife in the Netflix series HOUSE OF CARDS.
Kevin Spacey (L.A. Confidential) and Jack Lemmon (It Happened to Jane) were in the 1992 film GLENGARRY GLEN ROSS.
Guy Pearce (L.A. Confidential) and Danny Huston (The Conspirator) were in the 2012 film LAWLESS.
Guy Pearce (L.A. Confidential) and Evan Rachel Wood (The Conspirator) were in the 2011 HBO mini-series MILDRED PIERCE.
Guy Pearce (L.A. Confidential) and James Badge Dale (The Conspirator) were in the 2013 film IRON MAN 3
Kim Basinger (L.A. Confidential) will be playing my mother in my biopic THE RISE AND FALL OF SHAUN BERKEY. Evan Rachel Wood (The Conspirator) will be my friend Ashley.
Kim Basinger (L.A. Confidential) and Robert Redford (The Conspirator director) were in the 1984 film THE NATURAL.
David Strathairn (L.A. Confidential) and Robert Redford (The Conspirator director) were in the 1992 film SNEAKERS.
David Strathairn (L.A. Confidential) and Kevin Kline were in the 1999 Shakespeare comedy A MIDSUMMER NIGHT'S DREAM.
James Cromwell (L.A. Confidential) plays former president Lyndon Johnson in the 1992 tv movie RFK. Tom Wilkinson (The Conspirator) plays him in the 2014 film SELMA
Russell Crowe (L.A. Confidential) and Danny Huston (The Conspirator) were in the 2010 film ROBIN HOOD.
Peter Cushing (The Vampire Lovers) plays Dr. Frankenstein in the Hammer Films. James McAvoy will be playing Dr. Frankenstein in the upcoming 2015 film FRANKENSTEIN.