Welcome to the 461st Edition of my series. I am now 0-1 in my Fantasy Football league. I had a decent amount of points but took on the top scorer and I had Frank Gore and Jason Witten come up sort for me. I hope to be able to rebound this week. I start my rehearsals for 1776 tomorrow at the Belfry theater so that is some exciting times. I will now get to my selections for the week.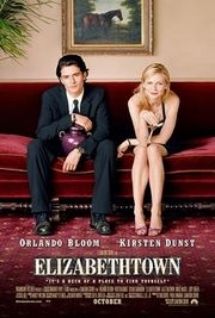 Elizabethtown (2005): Cameron Crowe wrote and directed this romantic comedy/drama. Orlando Bloom stars as Drew who loses his good job as a shoe designer and gets word that his father died. He returns to his hometown of the movie title and at the airport he meets outgoing attendant Claire, played by Kirsten Dunst, where they form a friendship and relationship making him change his views toward life. Susan Sarandon, Alec Baldwin, Paul Schneider, Jessica Biel, Judy Greer, Bruce McGill, and many others co-star in this film. I always enjoy Judy Greer who I feel is rather underrated. I also thought that Bloom and Dunst gave good performances and had really good chemistry. This may very well be the first time I have seen Bloom in the modern day. There were a lot of mixed opinions on the movie but I thought it was a very thoughtful one and while it did not top Crowe's ALMOST FAMOUS it was still very enjoyable. I also really liked the way it ended.
Rocky (1976): This was featured a couple weeks ago on my "Movie Night at the Shera" segment. Anyone who knows me knows the kind of fan I am of this movie and would always say how I wanted to wright ROCKY: THE MUSICAL but more experienced people in Broadway beat me to it and I have heard good things on it. This movie started it all. Sylvester Stallone created an icon when he wrote this script and brought it to life with much difficulty. Stallone had done some movies but was still struggling and this project of his was his own make or break when he was struggling to make a living. When he presented this movie to a group of presenters, they really liked it but did want Stallone starring as Rocky Balboa at first and they wanted a bigger name like Robert Redford, Ryan O'Neil, or Burt Reynolds. Stallone refused to give into those demands and finally agreed to less funding in order to star in his movie like he wanted. Now for a little bit on the story. Stallone stars as small-time boxer Philadelphia boxer Rocky Balboa who like the person playing him was really struggling in life. He tried to make ends meet by working as a loan shark which was not something he liked but had to pay bills. The next part of the story is with the heavyweight champion Apollo Creed, played by Carl Weathers, who is supposed to have a fight in Philadelphia but all the people of rank were not available at that time and comes up with the idea since they are in the "land of freedom" to give a local fighter the opportunity of a lifetime by giving that person a title shot. After a long search, Apollo finds a man with the nickname "Italian Stallion" which was Rocky and decided that he was the one. Apollo believes that Rocky is going to be an easy opponent but ends up underestimating him. Talia Shire co-stars as Adrian whose brother Paulie, played by Burt Young, is a friend of Rocky's. She is a very shy person but Rocky looks to bring her out of her shell. Burgess Meredith plays Rocky's manager Mick and give a great performance. Look for Sly's brother Frank as one of the street band members and Troma icon Lloyd Kaufman who helped some with editing. One of the results of this movie was a statue of Rocky in Philadelphia. When I visited my friend Ashley who has moved to Philadelphia, the only thing I really obsessed over tourist wise was that statue and I got to see it and get a photo with it. This spawned a few sequels, most of which were also quite good and it is now a Broadway musical. I could go on about this one forever but I'll shut up now and let know this is available on Instant Netflix and Amazon Prime.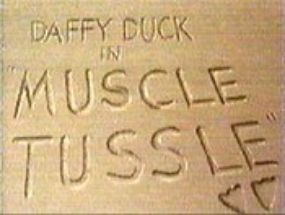 Muscle Tussle (1953): This is my animated short for the week which features Daffy Duck. Daffy takes his girl to a beach but a more muscle-bound duck wins her attention and goes through some extreme measures in order to win her back. This is a really good Daffy short and have some very funny moments. This was on the dvd of TROUBLE ALONG THE WAY but is probably attainable on Youtube.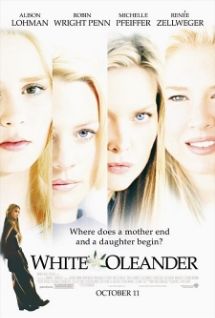 White Oleander (2002): Peter Kisminsky directed this film based on the novel from Janet Fitch. Allison Lohman stars as Astrid whose single mother Ingrid, played very well by Michelle Pfeiffer, is arrested for murder and Astrid begins a life of being thrown around to foster homes. Every home she goes to seems at first like it will be a great place but then too good to be true and must learn a lot of things on her own. Patrick Fugit, Billy Connolly, Robin Wright, ER alum Noah Wyle, Renee Zellweger, and many others co-star. Lohman does a really good job in this film as someone trying to find herself in life. I have seen a few of her movies but never really can pick her out if I didn't know she was in the movie. She seems to stay out of the limelight a lot so that could be one of the reasons. I didn't really know what to expect of this movie but was pleasantly surprised.
Madame X (1937): Gladys George stars as Jacqueline Fleuriot who has cheated on her husband, very unheard of in a movie from this era, and is thrown out of her home by her husband even after giving birth to a child and is no longer in their lives until 20 years later. In this 20 years later, she is on trial for a murder which happened when she was trying to save her son Raymond, played by John Beal, who is her attorney and is unaware she is his mother. Reginald Owen, Ruth Hussey, and Warren William all co-star in this film. This is a pretty decent drama with good performances and deserves to go on the radar a little more than what it already is.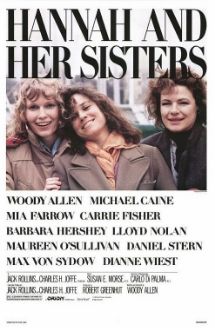 Hannah and Her Sisters (1986): This is part one of a two part Woody Allen series where he directed, wrote and co-stars in this comedy/drama which also deals with infidelity. Mia Farrow stars as the title character whose husband Elliot, played by Michael Caine, begins to fall in love with Hannah's sister Lee, played by Barbara Hershey. Lee is also in a relationship with Frederick, played by Max Von Sydow, who is much older and their relationship fades as she explores her own feelings for Elliot. The other sister of Hannah's is Holly, played by Dianne Wiest, who at one point went on a disastrous date with Hannah's then boyfriend Mickey, played by Woody Allen. Mickey is an extreme hypochondriac but finds that his latest complaint might a little more serious. Carrie Fisher also co-stars as April who is Holly's friend. Maureen O'Sullivan, Lewis Black, Julia Louis-Dreyfuss, Christian Clemenson, Julie Kavner, J.T. Walsh, John Turturro, Richard Jenkins, Daniel Stern, and Sam Waterston all have parts in this film. Also look for Soon-Yi Previn as one of the children and most know she would go onto marry Woody in real life. This is a pretty good portrait on a dysfunctional but loving family.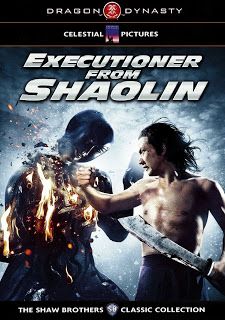 Executioners from Shaolin (1977): This is my Hong Kong film for the week. In this movie, a couple unite where the woman knows the crane style of Kung Fu and the man knows the tiger style. They have a son but his father is killed by the ruthless Bai Mei. His mother trains him in the Crane style while he learns the Tiger style in his father's book and trains to avenge his father's death. This is a pretty good Kung Fu movie from this era when I usually favor ones in the 90s. This has some good action and was glad to have subtitles rather than the mouths moving more than what they talk in English. It also has a pretty good story and is worth a look for fans of the genre.
Ram Dass: Fierce Grace (2001): This is my documentary for the week which focuses on spiritual guru Ram Dass who is recovering from a stroke. This goes into his earlier life in childhood, his days as a Harvard professor, and his life in the spiritual world as well as his friendship with Timothy Leary. I did not know anything about this person or had ever really heard of him until I came across this documentary. It is very informative and I find him to be a rather interesting person. This is available on Instant Netflix.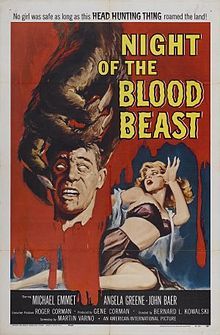 Night of the Blood Beast (1958): I decided to check out some MYSTERY SCIENCE THEATER 3000 on this one and decided upon this one. Roger Corman produced this movie while his brother Gene Corman wrote it. An astronaut dies and they encounter an alien whose costume was really quite laughable. I am not really able to put this into words and remember the show I am watching. They had quite a field day on this one. This is also available on Instant Netflix.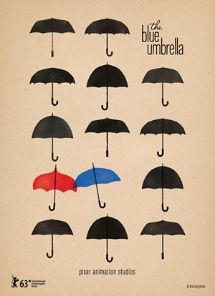 The Blue Umbrella (2013): I end with this animated short from Pixar. This is a love story between two umbrellas, one of which is blue and the other is red. They each have different owners and the other objects help them get together. Just about everything in this movie is in human form. It has some great animation. It was a very fun seven minutes and was released alongside MONSTERS UNIVERSITY.
Well, that is it for this week. Tell me what you like and dislike. Stay tuned for next week which so far includes Nicolas Cage, Carole Lombard, Mickey Rourke, Raquel Welch, more Woody Allen, Boris Karloff, Burt Reynolds, and many others.