Welcome to the 460th Edition of my series. I am glad announce that I am in the musical 1776 at the Belfry Theater in Noblesville, Indiana. This is my second show at the theater. The other one was in 2010 where I played Harry the Horse in GUYS AND DOLLS. I'm really kind of liking being a drifter among community theater. The show is in the last part of November and the first week in December. I will let know more details as they come.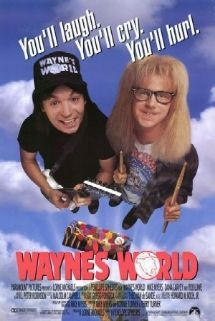 Wayne's World (1992): I start the week off with this SATURDAY NIGHT LIVE movie and the best of their movies in my opinion. Penelope Spheeris directs this comedy which stars Mike Myers as Wayne Campbell and Dana Carvey as Garth Algar. Wayne and Garth are a couple slackers who have a public access show of the movie title. A local station run by Benjamin Oliver, played by Rob Lowe, picks up their show professionally but they find it is not really the same. Tia Carrere stars as Cassandra who is a local singer that Wayne forms a relationship with and tries to help her with a career though is concerned about her friendship with Ben. Brian Doyle- Murray, THE PRACTICE alum Lara Flynn Boyle, OZ alum Lee Terguson, Kurt Fuller, Colleen Camp, Donna Dixon, Chris Farley, Meat Loaf, Robert Patrick, Ione Skye, and Ed O'Neill all co-star in this comedy. Music legend and host of the best radio show right now Alice Cooper has a cameo as himself and shows a very intellectual side in this one. One of the most famous scenes in the film is where they are all in the car and singing the Queen song BOHEMIAN RHAPSODY where they go all out with the song. This movie really put that song back on the rise. There is actually a video of me singing this song when I was really drunk at my friend Brittany's house but I could never top what the people in this movie did. This was one of my favorites growing up and seems like a pretty timeless comedy as I have seen the younger generation take interest. There are some pretty funny moments but also takes a good look at the dark side of corporate. I would say my Facebook friend Jeff can relate to this one as he is involved with Public Access television. This is available on Instant Netflix.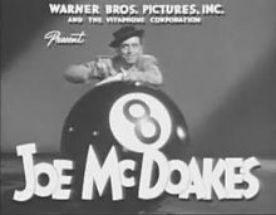 So You Think You Can't Sleep (1953): This is my comedy short for the week which is part of the Joe McDoakes series of short films. George O'Hanlon stars as Joe who has a really hard time sleeping due to things like his wife's snoring, dripping faucet, street noise, among other minor occurrences. He goes to a specialist but even their treatments are not working well leading to a comical solution. I always enjoy watching this series of shorts and is a pretty entertaining few minutes.
Chandu the Magician (1932): Bela Lugosi stars in this film as mad scientist Roxor who kidnaps a scientist named Robert Regent, played by Henry B. Walthall, who has invented a death ray and Roxor wants it for himself. Edmund Lowe plays the title character who is the brother in law of Robert and a powerful magician who goes after Roxor. Lugosi is fresh off his success from DRACULA and does a pretty good job in this film as well as Lowe. This is a pretty decent movie from this genre and is worth a look if you like this era and genre.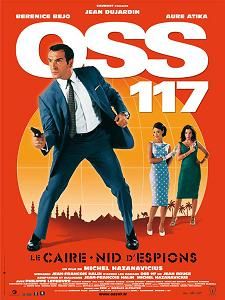 OSS 117: Cairo, Nest of Spies (2006): This is one of my French films for the week. Michel Hazanavicius directed this spy parody which is based on a character of the title named Hubert Bonisseur de La Bath which was a character created in 1949 in a series of novels by Jean Bruce which predated Ian Fleming's James Bond novels. There was a series of books and movies in the older days. In this updated version Jean Dujardin plays secret agent OSS 117 who is investigating the disappearance of a colleague and friend. He takes cover at a poultry firm in Cairo and while there he foils some Nazi plans, beds some beautiful women and finds the truth. This is a comedy and it was really quite funny. Dujardin was very fun as the title character and many may know him from THE ARTIST. If you can tolerate subtitles, I really believe this comedy is worth checking out as it delivers quite a bit of laughs. This is available on Instant Netflix
Merrill's Marauders (1962): Samuel Fuller directed this war film. Jeff Chandler stars as Brigadier General Frank D. Merrill who leads his 5307th Composite Unit behind Japanese lines during WWII. It is really hard to put a movie like this into words. The war genre is not really my favorite but I do tend to enjoy the independent war films that Fuller does. This was a very gritty and realistic war film that tested the limits of man. This movie went straight into the war and does not glorify it in any way. This is Chandler's last film and went out with quite a bang in this film.
Blue is the Warmest Color (2013): This my second French film for the week and this one was directed by Abdellatif Keniche and is a very rare NC-17 selection for me. Adele Exarchopoulos stars as Adele who is a high school girl who is exploring herself sexually. She has dated men but to no satisfaction. She meets a more free spirited girl with blue hair named Emma, played by Lea Seydoux, and form a relationship with her. Adele's friends have a hard time excepting Emma due to her sexuality and Adele also does not adit to their relationship but they suspect it and have a hard time accepting her. There are some pretty intense scenes which really explain the NC-17 rating and is not for everyone. It was not a very upbeat film I did find it to be a very compelling film on love and loss and might not have needed to be three hours long. The two actresses worked very well. This is available on Instant Netflix so just use your judgement as far as the English subtitles and rating.
Le Mans (1971): This is my racing movie for the week which also takes place in France and this is the last. Steve McQueen stars as Michael Delaney who is in the real life Le Mans in France race which is known to be the most dangerous race which goes over 24 hours and 14.5 kilometers of rough roads. Siegfried Rauch co-stars as Delaney's German rival Erich Stahler. This movie is almost shot as a documentary. Steve McQueen was a real-life racer and does most of his driving in this film. Much of this movie is racing footage and the first 37 minutes do not have any dialogue but really good racing footage. Racing fans will really appreciate this one. This is a real-life race that has been happening annually since 1923 and this movie depicts it very well.
Wordplay (2006): This is my documentary for the week which was directed by Patrick Creadon. This is a documentary that takes a look at crossword puzzles and most notably editor Will Shortz puzzles that he does for the New York Times. It talks briefly about the history of crossword puzzles and goes into an annual tournament that started in 1978 and goes into the one going on at the time. I for one am not very good with crossword puzzles, even with my useless knowledge and random facts and have some really interesting scenes showing them putting one together for the paper. I always enjoy seeing people who do unusual competition like a puzzle contest and their passion they show for what they do. It has interviews with people who have published puzzles and past champions as well as Jon Stewart who really enjoys crosswords. I am more for Sudokus and respect those who can solve those crossword puzzles. This is a very fun documentary.
The Underworld Story (1950): This is my crime drama for the week. Dan Duryea stars as journalist Mike Reese who prints a story which leads to a gang killing. He gets fired shortly after this happens and finds his way to a small-town newspaper as the editor. Mike sees an opportunity for the paper during a sensational murder case where a black servant is accused of the murder but the people at the paper believes she is innocent. Herbert Marshall and Gale Storm play his uneasy co-workers who look to clear the name of the servant being accused. Reese is looking to clear her name but is also out for himself thought becomes more caring throughout the film. One problem of the film is that Mary Anderson plays the servant Molly and is clearly not black but I was able to look past it with the compelling story and performances from Duryea.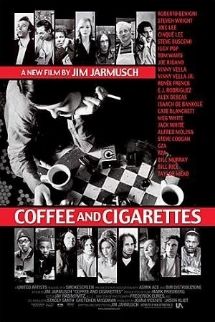 Coffee and Cigarettes (2003): Jim Jarmusch wrote and directed this film which is a series of vignettes of people discussing different issues over coffee and cigarettes. Topics range from caffeine Popsicles, Paris in the '20s, and the use of nicotine as an insecticide. Roberto Benigni, Steven Wright, Joie and Cinque Lee, Steve Buscemi, Iggy Pop, Tom Waits, Cate Blanchett, Jack and Meg White, Alfred Molina, Steve Coogan, Gza, Rza, Bill Murray, among others have parts. Cate Blanchett plays herself and her cousin Shelley which I did not know until I saw the credits. Iggy Pop and Tom Waits have a very amusing vignette. Jack White is also quite funny trying to emulate Nikola Tesla. This was a pretty simple film that could be hit or miss to many. Much of the script is improvised and is a pretty funny series of black and white vignettes. I am a coffee shop person myself so I could relate some to this film. This was actually filmed over a period of 17 years like the first one with Roberto Benigni and Steven Wright was filmed in 1986. This is available on Instant Netflix and Amazon Prime.
Well, that is it for this week. Stay tuned for next week which includes Kirsten Dunst, Michelle Pfeiffer, Woody Allen, and many others.