Welcome to the 458th Edition of my series. I continue to work at my weekly second job at Silo where I host karaoke at Silo in Downtown Muncie and I run it again on Wednesday from 8 pm to around midnight, maybe 1 am depending on the crowd so come on out for drinks, food, and sing some songs. Not a lot else happening at the moment so onto the selections for the week.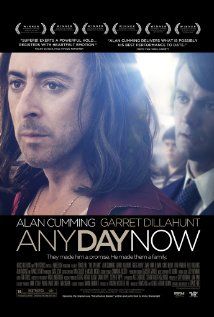 Any Day Now (2012): I start the week out with this independent film directed and co-wrote by Travis Fine. Alan Cumming and Garret Dillahunt star as gay couple Rudy and Paul who take in a young boy with Down Syndrome named Marco, played by Isaac Levya, after being abandoned by his drug-addicted mother, played by Jamie Anne Allman. Rudy works at a nightclub as a cross-dressing dancer. Paul is an attorney who has been in the closet for years and got exposed the hard way putting their custody in jeopardy when their unconventional relationship is discovered. Paul looks to make the courts see that he and Rudy are fit parents. Frances Fisher, Chris Mulkey, Alan Rachins, and Mindy Sterling co-star in this drama which takes a look at our flawed legal system when it comes to custody issues, especially at that time which was the late 70s. Cumming and Dillahunt are great together and is a very moving film. This is available on Instant Netflix.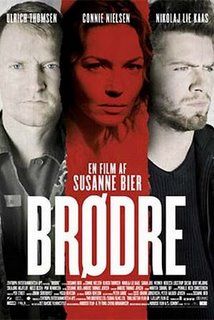 Brothers (2004): Susanne Bier directed and co-wrote this Danish film. Ulrich Thomsen stars as Michael who has a successful military career with a wife and children. Nikolaj Lie Kaas co-stars as his brother Jannik who is more the black sheep of the family. Michael is sent to Afghanistan and Jannik steps up and helps to take care of the children while Michael is gone while becoming closer to his wife Sarah, played by Connie Nielson. On the other storyline, Michael is being held prisoner in Afghanistan and does an unspeakable act in order to survive. When returning home, he is traumatized by the events which make him more difficult to be around. This storyline might seem a bit familiar and this was remade in the United States in 2009 which I still found to be a pretty decent film. I really feel this movie captured more in emotional depth and is really worth a look if you are tolerant to English subtitles. This had a great story and performances and moved along very well.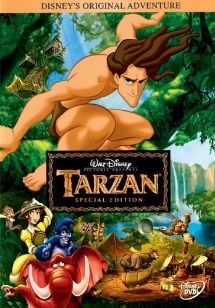 Tarzan (1999): This is my Disney selection for the week. This is a different telling to the famed Edgar Rice Burroughs story. Tony Goldwyn voices the title character in this one. It starts from his infancy where his parents die and he is taken in by an ape named Kala, voiced by Glenn Close, and is reluctantly accepted by Kerchak, voiced by Lance Henriksen, who is the head of the apes. When grown, there is an expedition group which includes Jane, voiced by Minnie Driver, who we all know becomes his love interest. Also part of the expedition is Clayton, voiced by Brian Blessed, who has more ill intentions. Nigel Hawthorne, Wayne Night, Alex D. Linz, Rosie O'Donnell, Rodger Bumpass, and many others provide this voices to this film which I suppose is the end of the 90s era of Disney that I so enjoyed. Phil Collins wrote the soundtrack which I did not know until this time that I watched it. I was aware that he had a song but did not know that he wrote the whole soundtrack and did a really good job as much as Phil can be hit or miss for me. This is a really good take to the classic tale and a good entry for Disney. This is available on Instant Netflix.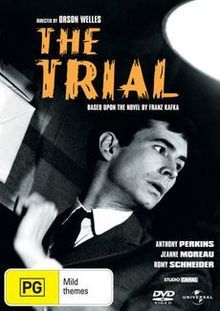 The Trial (1962): Orson Welles directed and co-stars in this film based on the novel by Franz Kafka. Anthony Perkins stars as Josef who is an office worker and is accused of a crime without being told what he did. He looks to prove his innocence in a very bizarre, surrealistic, and dystopian world. Anthony Perkins does a great job as the naive government worker and I like to promote Perkins in his other works besides PSYCHO. This is a very complex film and rather hard to describe. This has a great look and really good cinematography to capture the mood of the film. Orson describes this as his best work. This is available on Instant Netflix.
Aqua Antics (1942): This is my short film for the week which is part of the Pete Smith Specialty series. This takes a look at a group called the California Water Bugs. They did a lot in the way of water tricks like driving a motorcycle over a pier with someone water skiing. This is a sequel to the 1941 short WATER BUGS. Smith provides very amusing narration like always and is good eight minute entertainment.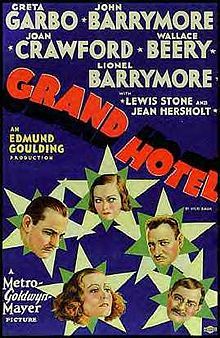 Grand Hotel (1932): Edmond Goulding directs this movie based on the play by William A. Drake. This takes place in a very fancy Berlin hotel and has one of the first all star casts. John Barrymore stars as Baron von Geigern who unexpectedly finds himself broke and survives upon poker and jewel theft. Lionel Barrymore co-stars as the terminally ill Kringelein who is trying to live his last days in the life of luxury. Joan Crawford co-stars as Flaemmchen who is a scheming stenographer. Greta Garbo co-stars as Russian ballerina Grusinskaya. Wallace Beery is a ruthless tycoon named Preysing who is trying to close a very important deal. Rounding out the cast is Lewis Stone who plays the disfigured Doctor Otternschlag. Their lives intersect his the very high class hotel. There are great performances but my favorite was Lionel Barrymore. In real-life there was a little feud sparked between Crawford and Garbo due to Garbo's insistence on getting top billing. This is a well-filmed classic with good performances and scenery.
There's Always Tomorrow (1956): Douglas Sirk directed this melodrama. Fred MacMurray stars as Clifford Groves who is a toy manufacturer and feels very unappreciated by his wife Marion, played by Joan Bennett, and his three children, played by William Reynolds, Gigi Perreau, and Judy Nugent. An old flame in Clifford's life named Norma, played by Barbara Stanwyck, and forms a friendship leading his son Vinnie to suspect the worse making things difficult for all. I have always been a pretty big fan of sirk and his really good melodramas and this was a really good undiscovered gem that is not as well known as his works like MAGNIFICENT OBSESSION, ALL THAT HEAVEN ALLOWS, and IMITATION OF LIFE. The performances and script are very well done and hope that I can give more exposure to this closet classic as Alice Cooper might call it.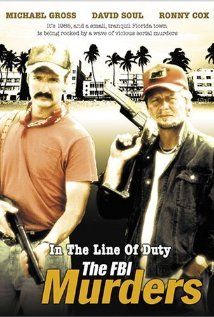 In the Line of Duty: The FBI Murders (1988): This is my tv movie for the week and is based on events that lead into a very bloody shootout in real-life referred to as the 1986 FBI Miami . David Soul and Michael Gross play a couple bank robbers who are on quite the crime and killing spree but manage to fly under the radar. Bruce Greenwood co-stars as one of the FBI agents looking for the criminals while trying to keep a good home life. Ronny Cox, Ben Sheehan, Teri Copley, and Richard Jenkins all co-star in this very well-made tv movie. It gives great time taking a look into the lives of the criminals and then showing the FBI very anxious to find these people. This was a very authentic looking movie and really deserves more viewings.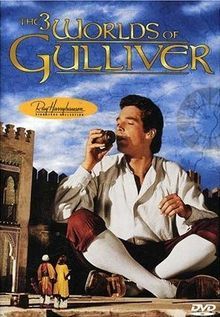 The 3 Worlds of Gulliver (1960): This is a version of the classic story from Jonathan Swift which is usually known as GULLIVER'S TRAVELS. Kerwin Mathews stars as Doctor Gulliver who is very poor, even in his line of work and sets out for more weather even if his fiancee Elisabeth, played by June Thorburn, seems content with what they have. He first sets out on a ship to India where he is washed ashore into a world of very tiny people. When he finally convinces them that he is harmless, they try to use him in a war against a people of giants where he is ore of a gnome compared to them. Ultimately he is trying to bring peace among the communities. Ray Harryhausen provides some very good special effects that still hold up pretty well by today's standards. It also has a good music score by Bernard Herrmann as well as a decent and fun performance from Mathews who has played legendary characters like Jack and Sinbad.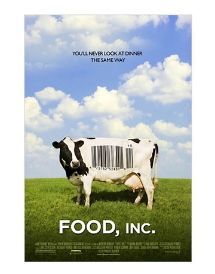 Food Inc. (2008): I end with this documentary which takes a rather dark look into the food industry in America. Robert Kenner directed this documentary which in some ways is to food what BLACKFISH is to killer whales and Seaworld. This takes a look into the rise of the fast food industry and how much of the food put out is through corporate controlled America. It also shows the health and safety of those who work the assembly line which is very overlooked. This is a very eye-opening documentary which did not have a big agenda except to look into the facts. The part I liked the most was organic farmer Joel Salatin who had a more natural way of farming and making his food as well as being very anti-corporate. This is available on Instant Netflix and makes me wonder what really is healthy to eat in our society today.
Well, that is it for this week. Tell me what you like and what you dislike. Stay tuned for next week which so far includes the late Robin Williams, Dennis Quaid, John Wayne, Clint Eastwood, Arnold Schwarzenegger, and many others. Continue to read for my Movie Night at the Shera segment.
MOVIE NIGHT AT THE SHERA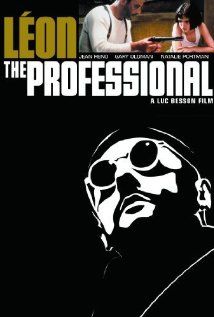 Leon: The Professional (1994): We watched this one last Sunday at Shera's house after a trip to the grocery and making something to eat. This movie has always stayed with me and this version I have adds about 24 minutes which make sense of a couple scenes from the American version which is titled THE PROFESSIONAL. This one is referred to as the "International Version". Luc Besson wrote and directed this film which features the film debut of Natalie Portman when she was 12 years of age. Portman plays Matilda who is a rather troubled girl who has an abusive father, played by THE PRACTICE alum Michael Badalucco, and stepmother, played by Ellen Greene who some may recognize from LITTLE SHOP OF HORRORS. She also has a sister she is not very fond of but a four year old brother who she does love. Her father has been dealing drugs with a group of corrupt DEA agents lead by Norman Stansfield, played by Gary Oldman, where things go wrong. When Matilda returns home after making a trip to a local grocery, she finds that her family has been killed and she avoids them when a local neighbor of the title name, played by Jean Reno, allows her into his home to save her life. The only one in her family that Matilda weeps for is her younger brother and discovers that Leon is a professional assassin and asks him to help her get revenge on those responsible. He reluctantly takes her in and trains her to be an assassin while she helps him with things like people skills while they target Stansfield who is trying to cover up his own trail leading to quite the climax. Danny Aiello also co-stars as Leon's mentor. I was glad to be able to introduce this to others and thank Shera for allowing this movie in our view. She did not necessarily enjoy it on my level but still found it to be intriguing and did still enjoy it. This movie is a bit out there at times and is not for everyone. I thought it had a really good story with good characters. I also really liked the music score from the underrated Eric Serra. I really liked the dynamic between Leon and Matilda where Leon is reluctant and is very careful. Jean Reno does a great job as the title character and is very likable despite his profession.
Jackass Presents: Bad Grandpa (2013): We watched this one last Thursday and since she watched something more within my taste, I figured I would watch something more to her taste and has expressed how much she likes this one. I admit, I was never really into that tv series JACKASS but was willing to keep an open mind on this one as it sounded pretty interesting. Johnny Knoxville plays Irving Zisman who is a very raunchy and politically incorrect 86 year old man who is asked to take his 8 year old grandson Billy, played by Jackson Nicoll, to his real father, played by Greg Harris, many states away. Billy shows he is just as foul-mouthed as his grandfather who introduces him to many places pretty much showing the title of the movie. This movie has characters but create real-life situations with unsuspecting people including a scene at a bingo hall and even one where he enters Billy in a beauty pageant. We both laughed quite a bit throughout the movie, more with Shera but I did laugh quite a bit myself. This is very politically incorrect so if you offend easy, this likely is not for you. I like that we had a diverse couple of titles for the week to present here.