Welcome to the 454th Edition of my series. It was quite a week where I tried taking part in my friends' Angie and Kristin's 7 day karaoke event where it was at a different place each week. I did six of the seven days and each night made sure to sing something different each night. Not much else happened so I'll just get to my selections for the week.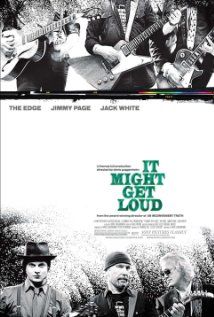 It Might Get Loud (2008): I start the week out with this rock documentary from Davis Guggenheim. This takes a look at the electric guitar which features Led Zeppelin's Jimmy Page, U2's The Edge, and White Stripes' Jack White who each reflect on their point of view on the guitar and on the career. They are also in the same room and get to converse with each other and it is very interesting seeing these three very diverse guitarists jam together. I am not sure how they were all selected but it was good to see people get exposed more to Jack White and Edge does a little bit of singing on the jam session and showed he is really pretty good. This is a really good documentary and guitarists will likely love it.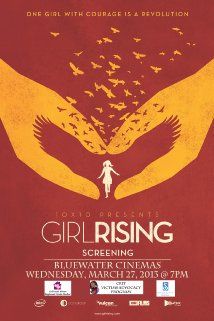 Girl Rising (2013): I continue with this documentary and is part four of my four-part Anne Hathaway series where she does part of narration. This movie takes a look at nine young girls around the world who face many injustices like arrange marriage, slavery and many other things. They all are trying to break from the traditions of their countries and look to get educated and lead better lives. Cate Blanchett, Priyanka Chopra, Selena Gomez, Salma Hayek, Alicia Keys, Chloe Grace Moretz, Meryl Streep, Kerry Washington, and Liam Neeson all contribute to the narration. This documentary was put on by the organization of the same name who look to help women around the world get a good education. I really did like this as someone who believes a lot in equality. I'm one of those who cringe toward gender jokes, both male and female and really do not believe in any kind of gender superiority which goes for both sides. Liam Neeson usually narrates toward the end when he talks about where the girls are in life and maybe they put him there to deter anyone from mistreating women fearing he might come after them if they do. They have a website at http://www.girlrising.com which is an organization a rather admire.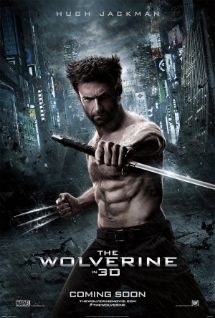 The Wolverine (2013): This is my superhero movie for the week which was directed by James Mangold. I suppose this is a reboot and a sequel in a sense. After the 2009 flop X-MEN ORIGINS: WOLVERINE, they tried again with this one and succeeded pretty well. Hugh Jackman reprise his role as the title character and this continues from X-MEN: THE LAST STAND where he is still haunted by the death of Jean Grey and tries to shut himself off from the world. He is summoned to Japan by an old acquaintance where he faces a new nemesis, one of which Viper, played by Svetlana Khodchenkova, who takes his healing powers leaving him more venerable than ever and must confront his demons as well as members of the Yakuza. He also has a couple cute Japanese girls on his side in Rila Fukushima and Tao Okamoto. A lot of this movie is Wolverine's battle with himself and deals with a web of intrigue and betrayal. In some ways it shows a price of immortality where Wolverine must deal with those he loves dying. Jackman is great as Wolverine and in some ways this is more of a character study superhero film but still has some good action. This is available to watch on HBO On-Demand and like any Marvel film stay through the credits.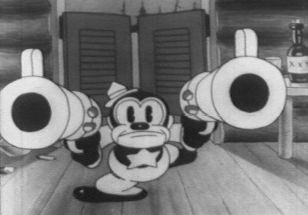 Big Man from the North (1931): This is my animated short for the week which was from the early days of Looney Tunes featuring their star character at the time Bosco who was big in the 20s and 30s. In this short, he is a Mountie in the extremely cold weather and must confront a wanted man in a saloon where Bosko seems timid but will get the last laugh. The character of Bosco is a caricature of a black man and kind of modeled from a black face Al Jolson. By today's standards, some may consider this racist but a lot of cartoons from that era really are rather racist by today's standards which was not necessarily the intention at the time. This is a good one for classic cartoon buffs to check out.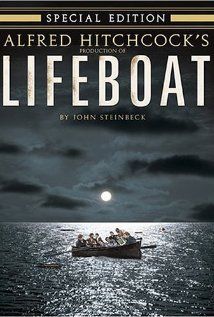 Lifeboat (1944): This is part one of a two-part Hitchock series. Alfred Hitchcock directed this film which takes place in a boat throughout the film. This takes place in WWII where a ship is sunk by a German U-Boat and the survivors gather in a boat which includes a journalist, businessman, radio operator, nurse, steward, sailor and an engineer. They all look to work together in order to survive and are soon joined by a Nazi, played by Walter Slezak, who was involved in the bombing and are unsure of if they should listen to him for survival. Tabullah Bankhead, William Bendix, Henry Hull, and Hume Cronyn are among the actors. Hitchcock and the actors did a great job of keeping the movie very interesting when they were in the same place all the time. It was also very daring for its time with some of the scenes. A lot of the actors caught some sort of sickness during the filming due to things like the cold water. This is based on the novel by John Steinbeck who is most known for THE GRAPES OF WRATH and THE GREAT GATSBY. Steinbeck wrote this novel at Hitchcock's request. I would consider this an overlooked masterpiece from "The Master of Suspense".
I Will Fight No More Forever (1975): This is my tv movie for the week which is based on a true story. Ned Romero stars as Chief Joseph of the Nez Perce Indians who lived in Wallowa Valley of Idaho and Oregon. President Grant opens it up for white settlers much to the dismay of the tribe. General Howard, played by James Whitmore, is sent to clear them out but also wanted to work something out with them. He is torn between his beliefs and his orders and Chief Joseph does not like what is happening but also does not want war. Joseph does what he can to keep the military away but finds it more and more difficult and must decide what is best for his tribe. A young Sam Elliot co-stars as Howard's assistant Captain Wood. This is a pretty good tv more. Romero is great as Chief Joseph and is a pretty good historical movie.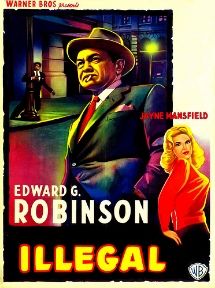 Illegal (1955): This is part two of my three-part Edward G. Robinson series. Robinson stars as Victor Scott who is a very respected and determined district attorney. He learns after the fact that he sent an innocent man, played by STAR TREK alum Deforest Kelley, to the electric chair. Being regretful of what happened, Victor resigns from District Attorney's office and forms his own private practice while also resorting to alcohol. As a defense attorney, Victor applies his unorthodox methods in getting his clients off which gets the attention of mobster Frank Garland, played by Albert Dekker, who hires him as an attorney where Victor slowly goes off the deep end. Nina Foch, Jayne Mansfield, Hugh Marlowe, and many others co-star in this film-noir. Robinson does a great job in his role and the movie keeps interest throughout the movie.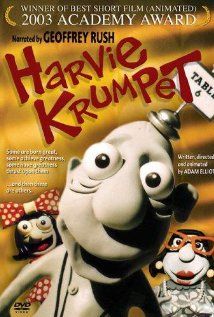 Harvie Krumpet (2003): Adam Elliot directed and co-write this Academy Award winning animated short film. Geoffrey Rush narrates this short about the title character who has a lot of bad luck through his life like Tourette's Syndrome, being struck by lightning, among other things. A lot of it shows him still having an optimistic outlook even if he has had a lot of bad luck and not a lot of money. This has some very good use of claymation with a fascinating story.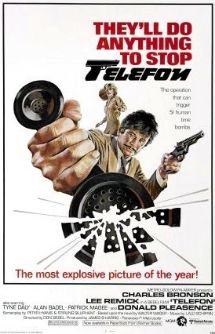 Telefon (1977): Don Siegel directs this espionage film. Charles Bronson stars as Major Grigori Borzov who is sent to the United States to find a Russian named Dalchimsky, played by Donald Pleasance, who has stolen something very important to the KGB. He also must stop a possible war where people are being brainwashed into doing things just by hearing a phrase. Lee Remick co-stars as Barbara who is a U.S. agent teaming with Borzov. I did not exactly buy Bronson as a Russian but just went ahead and looked past it. This is an interesting spy thriller and is worth a look sometime.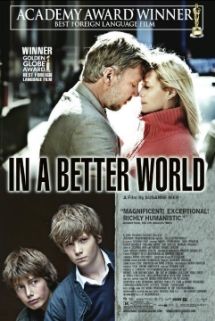 In a Better World (2010): I end this week with this Danish drama directed by Susanne Bier. This focuses on two Danish families. William Nielson stars as Christian whose mother has died and has a very hard time dealing with her death and his father Claus, played by Ulrich Thomsen, does not really know how to deal with Christian's resentment. Christian is new to his school and soon meets Elias, played by Markus Rygaard, and forms an immediate friendship. Elias is bullied a lot at school and Christian begins to experience it but they realize they messed with the wrong person in Christian. He also involves Elias in a very dangerous revenge scheme which changes everyone's lives in the process. Mikael Persbrandt co-stars as Elias' father who spends a lot of time in Africa as a doctor at a refugee camp. He is assaulted which becomes the source of the revenge scheme despite him trying to teach the kids that violence is not worth it. This is a really good look into testing a friendship and the aftermath and consequence of what happens and the kids and parents figuring out how to deal with the has happened. These are all very well written characters and a good story that is really worth a look.
Well, that is it for this week. Tell me what you like and dislike and stay tuned for next week which so far includes Tom Hanks, Mark Hamill, Al Pacino, more Alfred Hitchcock, Chuck Norris, more Edward G. Robinson, and many others.