Welcome to the 453rd Edition of my series. I am glad to announce that October 18th marks the return of Action Packed Wrestling and I will be stirring things up with the Shaun Berkey Talent Agency. A
lso this week, my friend and fellow karaoke junkie Angela is looking to do karaoke every day this week starting with tonight going until Sunday and I will look to do the same so this should be interesting.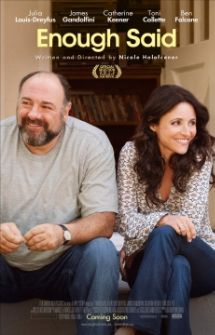 Enough Said (2013): Nicole Holofcener wrote and directed this independent romantic comedy but please do not stop reading just because I said "romantic comedy" because it is much more than that. SEINFELD alum Julia Louis-Dreyfuss stars as Eva who is a masseuse and is divorced as well as a single mother whose daughter will be leaving for college. SOPRANOS alum James Gandolfini stars as Albert who is also divorced and will also be facing an empty nest. When meeting they form an interest with each other. Eva soon befriends a woman named Marianne, played by Catherine Keener, who rags a lot on her ex-husband which happens to be Albert and does not inform them that she is aware they they used to be married. Toni Collette also co-stars in this film. This is a very well-written film which has likable characters. I really liked the low-key way Gandolfini portrays his character as really just a nice and simple man and am so glad he got to do this movie before his tragic death. Louis-Dreyfuss and Gandolfini work very well in this film driven by a good script and characters.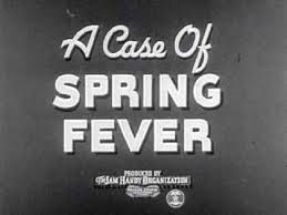 A Case of Spring Fever (1940): This is my short film for the week which was shown in theaters last night during Rifftrax before their showing of SHARKNADO so that probably says a lot right there. This shows a man who is frustrated when having to fix the springs in their couch and makes a comment wishing there were no springs. When saying that, a talking spring named Cully shows up and very upset at that comment so he gives the man a world with no springs. He learns his lesson and when Cully puts things back to normal he educates his friends to no end about springs. I learned from this short that I will never talk negatively about springs as I do not want to experience the wrath of Cully.
Son of Dracula (1974): I learned about this movie during last week's feature on the documentary on music legend Harry Nilsson and learned that he played the title character as well as former Beatle Ringo Starr playing Merlin which really sparked my curiosity. Nilsson stars as Count Downe and no I don't know how Dracula had a child. Count Downe is to be crowned King of the Netherworld by his mentor which happens to be Merlin for some reason. Count Downe falls in love with a girl named Amber and considers looking into mortality. Baron Frankenstein insists he can do it but has other ideas. We also have a werewolf that in in a jail cell all the time and if I'm not mistaken I believe I even saw Medusa. There is also Van Helsing who is the second in command to Meriln and even friends with Count Downe. This really is something that the Rifftrax guys should look into in the future. It never really got an official release but this is available on Youtube. It's one of those where I continue to have the letters WTF in my mind but yet I couldn't take my eyes off it. If you are looking to get a version that matches the classics from Universal and Hammer Films, this really is not it. This was an Apple production which was founded by the Beatles and after this movie they likely realized they should stick to music.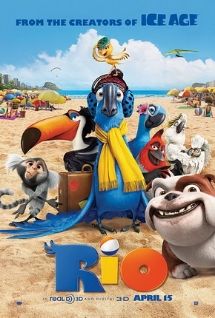 Rio (2011): This is part three of my four part Anne Hathaway series and all of these so far have been animated selections just like this one. Carlos Saldanha co-wrote and directed this animated movie on tropical birds. Blu, voiced by Jesse Eisenberg, is a domesticated Macaw and has a very good relationship with his owner Linda, voiced by Leslie Mann. Linda is soon visited by an ornithologist named Tulio, voiced by Rodrigo Santoro, who informs Linda that Blu is the last male macaw of his species and in Rio De Janeiro there is another female macaw named Jewel, voiced by Anne Hathaway. She reluctantly agrees to take Blu there to save the species but finds Jewel is more wild and does not like being domesticated. They are soon abducted and must work together to escape despite that Blu never learned to fly while Jewel can fly though Blu still shows he is very resourceful. They also become closer in the process of being together. Wanda Sykes, Jamie Foxx, Black Eyed Peas member Will I Am, Jane Lynch, George Lopez, Tracy Morgan, and many others provide their voices. This is a fun animated movie which I really believe is appropriate for the family. It is also very colorful and has some fun music numbers.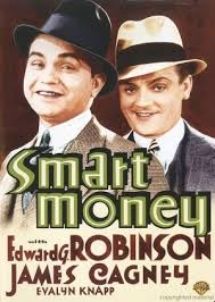 Smart Money (1931): This is part one of a two part Edward G. Robinson series. Edward G. Robinson and James Cagney team up for the first and only time in their careers. Both were just coming off success in their gangster films. Robinson had LITTLE CAESAR and Cagney had PUBLIC ENEMY. In this movie, they are both barbers who find their way into the world of illegal gambling. Robinson stars as Nick who slowly learns the art of gambling and along with his partner Jack, played by Cagney, they rise but Nick begins to get more and more greedy along with a weakness for beautiful blondes. Cagney is more of the supporting player in this movie but still does a great job. Look for Boris Karloff in a bit role as a gambler. Both of these actors would go onto do some really good movies for Warner Brothers, just not together. This is more of a comedy than the others and may not be great but is still enjoyable.
Conspiracy (2001): This is my HBO movie for the week. This is a recreation of a Nazi conference in 1942 called the Wannsee Conference where Nazi and SS leaders meet and discuss the fate of the Jews in which would come to be known as the Holocaust. Kenneth Branagh stars as Reinhard Heydrich who leads the meeting. Stanley Tucci co-stars as Adolf Eichmann who was also a part of this meeting. Colin Firth and Ian McNeice are members of the meeting and look for Tom Hiddleston as a phone operator. This is a rather disturbing and compelling look at how a meeting like this may have gone down. This is based on a document of the minutes done by undersecretary Martin Luther, played by Kevin McNally, and is the only surviving document of this conference. This was a very well-shot movie and almost shot theatrically. Branagh won an Emmy for his performance in this tv movie.
On Her Majesty's Secret Service (1969): I decided to include 007 this week and show George Lazenby's only time playing James Bond. KOJAK alum Telly Savalas co-stars as Bond's rival SPECTRE leader Ernst Stavro Blofeld who along with his henchwoman Irma Bunt, played by Ilse Steppat, is up a scheme which Bond must go undercover to find out. He also must team with a mob boss named Draco, played by Gabriele Ferzetti, and also falls in love with his daughter Tracy, played by Diana Rigg. There has always been mixed opinions on Lazenby as Bond. This is a more realistic Bond and I thought Lazenby did a better job than others when having to go undercover. There was also a really good action climax near the end and an ending that was quite a bit different than most 007 endings. I have also read that this is more to the novels than most of the movies. I do not find this one to the best of the series but is still a pretty decent entry.
Rush (2013): Ron Howard directed this racing film which takes place in the 70s during Formula 1. This is based on the rivalry between racers James Hunt and Niki Lauda. Chris Hemsworth plays James Hunt who is a playboy and walks a rather thin line in life. Daniel Bruhl plays Niki Lauda who was more focused on the racing. This is a narrative from both reflecting on their personalities on and off the track. Olivia Wilde co-stars as Hunt's first wife. I will be the first to say that I am really not a racing fan but still enjoyed this one. Hemsworth and Bruhl are great in their roles. I have heard that the rivalry was exaggerated some but both clearly respected one another. Howard did a great job of giving an authentic look to the world of racing. I have heard Lauda endorsed the movie and Bruhl got both the look and voice down.
A King in New York (1957): This is a much later Charles Chaplin film which he directed and wrote as well as stars. He stars as European King Shahdov who comes to the United States due to a revolution happening in his country. He goes there and becomes broke so turns to television to make some money after being reluctant until learning of the money involved. He also meets a child named Rupert, played by his own son Michael, who is a child of parents who are being suspected of communism which makes the government suspect him during the McCarthy era. This movie was filmed in Britain because of Chaplin's deportation from the states for those very reasons. He also pokes fun at our obsession with technology and media which is a very early look at something even more relevant in today's society. This movie was never released in the United States until 1973. This is a very underrated work from Chaplin who could very well be the master of making comedy out of very bad times. He made very obvious statements on things like technology and the anti-communist scare.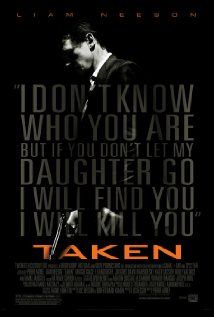 Taken (2008): I end the week with this action film directed by Pierre Morel and co-written by Luc Besson. Liam Neeson stars as retired CIA operative Bryan Mills who looks to reconnect with his daughter Kim, played by Maggie Grace, who lives with her mom Lenore, played by Famke Jannsen, and her stepdad Stuart, played by Xander Berkeley. Bryan reluctantly signs a form allowing Kim to go to Paris with her friend Amanda, played by Katie Cassidy. When they arrive, they are abducted by an Albanian gang but not before Kim was talking to her father before it happened, giving him information to go upon to find Kim. Bryan wastes no time going to Paris and pretty much using all means necessary to find his daughter. I always say that if I can have any celebrity bodyguard, I would choose Liam Neeson without any hesitation. This was a great action film with a good performance from Liam as the determined father racking up quite a body count. This was very fun movie showing that one should not mess with Liam Neeson's family or there will be hell to pay. I still cannot understand why anyone would mess with Mr. Neeson.
Well, that is it for this week. Tell me what you like and dislike and stay tuned for next week which so far includes more Anne Hathaway, Hugh Jackman, Alfred Hitchcock, Sam Elliot, more Edward G. Robinson, Geoffrey Rush, Charles Bronson, and many others.