Welcome to the 452nd edition of my series. On Saturday, I look to get back into the world of theater. I have a couple auditions and will let know as things go along. Not a lot of big things going on right now so I'll just get to my recommendations for the week.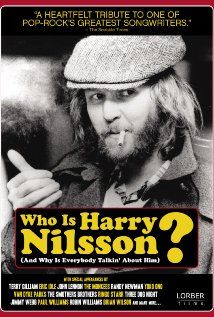 Who is Harry Nilsson (And Why is Everybody Talkin' About Him?) (2010): I start this week out with this music documentary which was directed by John Scheinfeld. This explores the career and times of this musician who is relatively unknown but very respected and still has quite a following. He is most known for his song EVERYBODY'S TALKIN' from the movie MIDNIGHT COWBOY. This takes a look at his early days to his rise in the industry and with the friendships with the Beatles, most notably Ringo and John. It also shows how he never performed live and became successful in other ways which is hard to do in the music industry. It also shows his involvement in film and tv like his animated movie THE POINT which I had a lot of exposure to on account of my dad when I was little. I first knew about Nilsson on account of my mom when I was in middle school and bought his cd. This movie was made shortly after his death where friends and family reflect on their experiences with Nilsson who made a great mark into the music industry. This is available on Instant Netflix and is great for fans and for those who do not know him and ask the title question.
The Cat Returns (2002): This is my anime selection brought by Studio Ghibli and is part two of my Anne Hathaway series that will go at least three parts but maybe four. Hiroyuki Morita directed this Anime tale about a young girl named Haru, voiced by Hathaway in the American version, who saves the life of a mysterious cat becoming part of the cat world. The king of the cats wants her to marry his son Lune and while not wanting it, her mixed reply is taken as a yes. This also makes her slowly turn into a cat and with the help of a couple other cats and a crow, they set out to make things right for Haru. This is a hard one to really describe beyond what I did. Anime is really not my genre but tend to enjoy the Studio Ghibli films and while this was not their best, it was still very enjoyable. Cary Elwes, Kristen Bell, Rene Auberjonois, Andy Richter, Peter Boyle, Elliot Gould, and Tim Curry all lend their voices to this cat tale.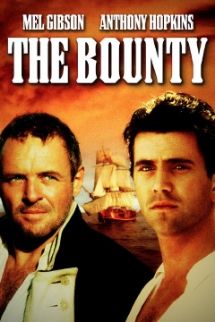 The Bounty (1984): This is part two of a two-part series from Sir Laurence Olivier. Roger Donaldson directed this take towards Captain Bligh and Fletcher Christian and is based on the book CAPTAIN BLIGH AND MR. CHRISTIAN. Other movies involve films of 1935 and 1962 called MUTINY ON THE BOUNTY. This takes place in the 1700s on a ship called the Bounty lead by Captain Bligh, played by Anthony Hopkins, and Fletcher Christian, played by a young Mel Gibson, who does not like his treatment causing a mutiny to happen on the ship. In other movies, Captain Bligh is portrayed as quite villainous but in this one, it is not as black and white which really made me like this and portrays both Bligh and Christian as being wrong. It starts out with Bligh in a court marshal explaining the events that went on which flash back to these scenes. Daniel Day-Lewis and Liam Neeson co-star in this film. This was a very interesting take to the familiar story with good performances and cinematography. I also liked the music from Vangelis whose best known work is probably the CHARIOTS OF FIRE theme song. I enjoyed this just as much if not more than the other versions and was worth a look for me.
The Future is Now (1955): This is my documentary short for the week. This takes a look at the possible future in the world of industry like solar energy, computerized things, television for science and industry, among other things. It concludes that the brainpower of man will always be what needs to guide this machinery. This was interesting, some things came to be and some did not but makes for an interesting watch.
The Hunchback of Notre Dame (1939): William Dieterle directed this version of the Victor Hugo novel. Maureen O'Hara stars as the gypsy Esmerelda who is framed for murder by the corrupt Frollo, played by Cedric Hardwick, and is up to the deformed bellringer Quasimodo, played very well by Charles Laughton, who slowly sees that Frollo, who adopted Quasimodo, is not such a good person, and looks to save her from a hanging after she helped him earlier. This is possibly the best movie adaptation of the classic novel though I really do like the Disney version. This is a very early Beauty and the Beast sort of tale and one showing how much we fear the unknown and judge too much by looks. There is some great performances and scenery in this take that mainly takes place at the Notre Dame cathedral.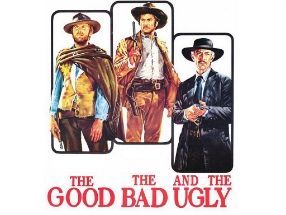 The Good, the Bad, and the Ugly (1966): This is part two of my two-part Eli Wallach series. This is the third of Sergio Leone's "Man With No Name" trilogy starring Clint Eastwood as the Man with No Name though addressed as Blondie. He is a gunslinger out to get money where he can forming a partnership with an outlaw named Tuco, played by Eli Wallach, where they make money off Tuco's bounty in a very unique way. Blondie soon dissolves the partnership which makes Tuco bitter and hunts down Blondie. They soon learn of a buried treasure which Blondie learns off someone dying and realize they must keep each other alive to find this fortune they are looking for. The third person on the trail is bounty hunter Angel Eyes, played by Lee Van Cleef, who looks to beat them to the punch. This is one of the most iconic westerns and possibly the best in my opinion. Ennio Morricone has an unforgettable score and has some really good action. The trio of Eastwood, Wallach, and Van Cleef are possibly the best western trio of all time and perfectly cast in their roles, leading to a very good showdown. This is available on Instant Netflix.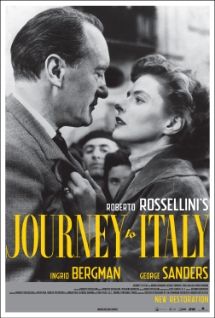 Journey to Italy (1954): This is my Italian film for the week which was directed by Roberto Rossellini. George Sanders and Ingrid Bergman star as married couple Alex and Katherine Joyce who are a very wealthy and sophisticated couple. They must go to Naples to dispose of their late uncle's villa and in the trip they begin to experience some tension in their marriage. They both flashback to different times in their lives which make their marriage even more difficult and even discuss the possibility of divorce. This is a really good movie dealing with the later years of a marriage and trying to salvage what they have. It also has a lot of beautiful scenery along with very good performances. This is not for everyone but foreign film buffs will love this one.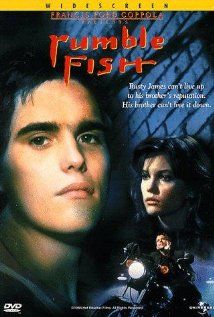 Rumble Fish (1983): Francis Ford Coppola directed this film adaptation based on the novel by S.E. Hinton. Matt Dillon stars as small-town thug Rusty James who lives in the shadow of his brother the Motorcycle Boy, played by a young Mickey Rourke, and longs for the days of brawls which are quite absent. His mother has left, his father drinks a lot and school has no meaning for him. The Motorcycle Boy returns to town after a long absence trying to get through to his brother but at the same time has his own issues to deal with. It mostly deals with the relationship between the brothers but there is a lot more to it. Diane Lane, Dennis Hopper, Diana Scarwid, Vincent Spano, Nicolas Cage, Chris Penn, Laurence Fishburne, and Tom Waits all co-star in this film. This is a really good look at small-town life and shot very well in black and white where only the fish are in color. There is also a very good scene taking place in the pet store.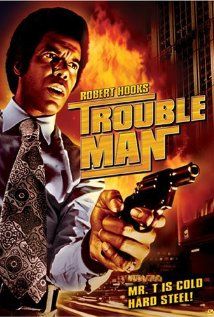 Trouble Man (1972): This is my Blaxploitation selection for the week which was directed by Ivan Dixon. Robert Hooks stars as private investigator Mr. T who is hired to figure out who is knocking over crap games at the pool hall. Also, a rival gang lord dies and is up to Mr. T to prevent a gang war and keep the cops off his back. This is one that can be enjoyed if understanding and tolerant of the genre. It is a rather fun movie and Hooks is very fun as the smooth talking p.i.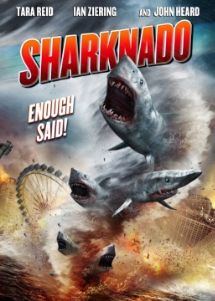 Sharknado (2013): I end the week with this cult hit from the Syfy channel and featured last Thursday at the movie theaters under Rifftrax. This takes place in L.A. where a hurricane hits and for some reason sharks are at very high and deadly numbers. 90210 alum Ian Ziering stars as surfer Fin and leads a group which includes his ex-wife April, played by Tara Reid, to get to safe land and stop the sharks. John Heard, Cassandra Scerbo, Jaason Simmons, and many others co-star. Heard was rather amusing as the bar regular who was determined to keep the stool he sat on and even used it as a weapon. One thing I found interesting was the kids of Fin and April who looked about their age and must have been very young when giving birth. It also has a lot of gun action and took out a lot of sharks with their aim but they were still coming from everyone and no one is safe. This was just as intended, a purposely made "bad movie" which was a lot of fun and delivered a lot of laughs. There is a sequel coming soon which we were treated to a preview. The Rifftrax guys made some very amusing commentary and had some good pre-show stuff. It was a very fun movie and is available on Instant Netflix. This would be a good one to get some friends together and to do your own riffing on this modern day classic bad movie.
Well, that is it for this week. Tell me what you like and dislike and stay tuned for next week which so far includes Catherine Keener, more Anne Hathaway, and many others. Continue to read though for return of my "Movie Night at the Shera" segment.
MOVIE NIGHT AT THE SHERA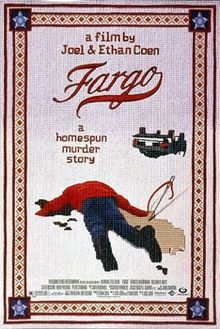 Fargo (1996): I went to Shera's house to get my annual haircut and then when in the living room, she went through her ATT On-Demand to look for a movie to watch and was very pleased with her selection of this one which is one of my favorites. This was directed by the Coen Brothers. William H. Macy stars as car salesman Jerry Lundegaard who is struggling financially and has a rather unusual scheme of making money. He hires two inept criminals, played by Steve Buscemi and Peter Stormare, to kidnap his wife whose father is very wealthy and to split the ransom with them. The kidnapping goes forward and some unexpected bloodshed happens making things more complicated. Frances McDormand co-stars as Sheriff Marge Gunderson who is pregnant and very determined to solve these murders. This movie works so well with the dialogue, characters, scenery, music score and so many other things. It is a great dark comedy and while the violence is limited, they really emphasize it when it happens. Macy is great as the salesman who turns to crime but then realizes he does not have much of a criminal mind. McDormand was also really good as the pregnant sheriff. A lot of Shera's commentary is towards the really dumb criminals and as I explained to her, that was really the point to show how criminals usually are not that smart, especially the character Buscemi plays while gives a good performance. In the end, Shera seemed to like it pretty well and after over saying "interesting". I have the tv series to DVR so I'll probably start watching that soon. The movie version is available on Instant Netflix. So yah, give this a watch.