Come see the 441st Edition of my long-running series. This week, I pay tribute to the late Mickey Rooney who I once saw at a live show in my town. I hope everyone has had a good week and I will now be putting out some recommendations.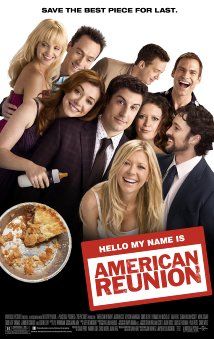 American Reunion (2012): It has been a few years since the last official entry into the series which was AMERICAN WEDDING in 2003 and was the third in the series. All the group from the series reunites and all return home for their high school reunion. Jason Biggs and Alyson Hannigan return as Jim and Michelle who are married with a son. Chris Klein returns as Oz who is now a very successful tv man but in a loveless marriage. Seann William Scott returns as Stiffler and clearly has not changed. The rest of the gang rounded out by Thomas Ian Nicholas, Tara Reid, Mena Suvari, and Eddie Kaye Thomas all come back into town for all new comical situations. Some of the other actors like Eugene Levy, Jennifer Coolidge, John Cho, Shannon Elizabeth, and a few others make appearances. If you are involved with the previous one, this is some great nostalgia to look into. I really like the way each one is kind of their own movie and not a rehash of the first ones. This one had some good moments where they are trying to relive their high school youth through some of the current students in town. This is the one to start out with but if you like the previous ones, this is one to continue with in the end.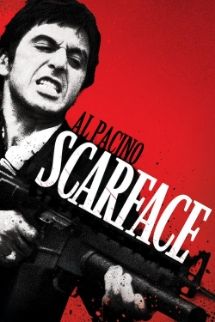 Scarface (1983): This is part 8 of what is possibly a 12 part Al Pacino series. Brian de Palma directed this remake of the 1932 classic where a few changes were made. The 1932 version has the main character named Tony Camonte whereas this one is Tony Montana. In the 1932 version, Tony was a bootlegger and heavily based on Al Capone hence Capone's nickname of Scarface. In this version Tony is a Cuban cocaine dealer. Pacino stars as Tony Montana who leaves Cuba during the Mariel exodus of 1980 and is part of a Florida refugee camp. Him and his friend Manny, played by Steven Bauer, are offered a way off in the way of a contract killing and then would get their green card. Tony soon begins a life as a Cuban drug dealer slowly moving up to the top but then becoming more and more paranoid of the people around him. Robert Loggia co-stars as Frank who gives Tony his first work as a dealer and targets Frank's empire and mistress Elvira, played by Michelle Pfeiffer. Mary Elizabeth Mastrantonio co-stars as Tony's sister Gina who he is protective to no end which clouds his judgment more. F. Murray Abraham, Harris Yulin, Miriam Colon, and Paul Shenar all co-star and look for Mark Margolis and Richard Belzer in bit parts. Oliver Stone wrote the screenplay while he was battling his own addiction. This movie is not for everyone. There is a lot of foul language, violence, and the use of cocaine including the f word being said a lot which might have had a record at the time for the number of times it has been said. Still a very compelling film to me with some great one liners and big climax. Pacino is great and creates an icon which still lives on today and still sells a lot of merchandise like me buying a poster and a wallet. Please say hello to my little friend and the world is yours.
Tomorrow Never Dies (1997): I continue on with the action in this James Bond selection. Pierce Brosnan makes his second appearance as 007 and goes against media mogul Elliot Carver, played very well by Jonathan Pryce, who looks to create the bad news. His main mission is to put Britain and China against each other and start World War 3. Bond teams up with Hong Kong agent Wai Lin, played by Michelle Yeoh, in order to stop his scheme from happening. Teri Hatcher co-stars as Paris who is Bond's former love but now Carver's wife. Ricky Jay, Gotz Otto, Joe Don Baker, Vincent Schiavelli, Judi Dench, Desmond Llewelyn, and Samantha Bond all co-star in this film. I always have enjoyed this one and might be my favorite of the Brosnan era. I loved seeing Michelle Yeoh in action and admit this was probably my first exposure to her and then went on to check out her Asian films. I also like the idea of a corrupt media mogul trying to take over the world who essentially creates the news. This is a pretty fun 007 outing if you can accept Brosnan as Bond.
Hoppy: The Bunny (1949): This is my short film for the week which was produced by Coronet which did a lot of videos meant to educate but really just entertain including some being used at times for MYSTERY SCIENCE THEATER 3000 before they do their feature film. This time they go the route of a children's story and then shifts to a real bunny visiting a farm, meeting a raccoon, chickens, pigs, and other things. It was really just a bunch of footage of animals that was not nearly as compelling as they thought it would be but still sort of enjoyable and is available on my pub-d-hub app on my Roku and on the public domain.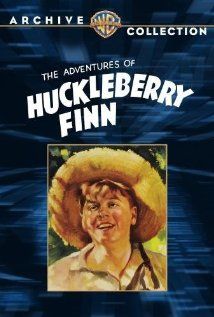 The Adventures of Huckleberry Finn (1939): This is my tribute to the late Mickey Rooney who recently left us. My mom and I had the pleasure of seeing him and his wife Jan at a live show at Emens Auditorium in Muncie a few years ago and he could put on a show. Seems like he performed from birth up to his death at 91 years of age. Richard Thorpe directs this adaptation to the famous novel by Mark Twain. Rooney plays the title character who has a hard time living in a civilized world. He is then joined by a runaway slave named Jim, played by Rex Ingram, who lives in the home Huck is staying with. They soon sail in a raft down the Mississippi river hoping to earn his freedom. Things get complicated when they are joined by two con artists, played by Walter Connelly and William Frawley, who claim to be British royalty but are really just out for their bounty to capture Jim. I was once in a musical version called BIG RIVER and the more I think about it, this might be the first Huck Finn adaptation I have seen. There are some changes from the novel but still a pretty decent adaptation with Rooney great in his role. This character might have been the first youth character to express non-conformity like in not wearing shoes, smoking pipes, and not going to school. Ingrim was also very good as Jim and made a good duo.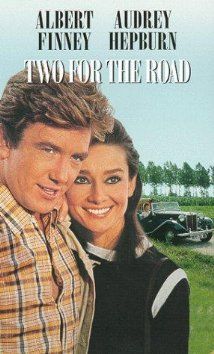 Two for the Road (1967): Stanley Donen directed this film which is partly a road movie but is mainly a look into a long-term marriage and all its ups and downs. Albert Finney and Audrey Hepburn co-star as Mark and Joanna Wallace which flashes back and forward a lot reflecting on the times like when they met, into parenthood, up to the modern times where they must examine if it is worth fixing their marriage. This is a really good look into the ups and downs of a marriage and there are some comedic and even sad moments. I might consider this Hepburn's best performance and Finney was great as well. Jacqueline Bisset has a small part in the film. I feel this movie goes beyond the phrase "chick flick" and is really a more enjoyable date movie that the guys might get more into. This has gone onto being rather underrated and is available on Amazon Prime which I just got the year subscription.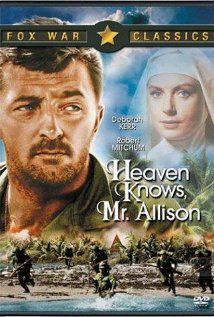 Heaven Knows, Mr. Allison (1957): John Huston directed and co-stars this WWII film which stars Robert Mitchum and Deborah Kerr who are really the only two actors in the film besides a few extras. Mitchum stars as Marine Corporal Allison who is shipwrecked on an island and is alone. He then meets Sister Angela who is a nun and has been shipwrecked herself. They have no communication where they are so must wait out the war on the island while trying to survive. Allison must also rely on his survival skills in order to keep himself and Angela alive when the Japanese invade the island. The two actors do a great job in keeping the movie going. Allison soon forms a love for Angela and she must decide on keeping her vows or forming a relationship. This is another one that has really gone very overlooked through the years and I had not heard of it until I was on Instant Netflix looking for something of this era. The movie takes place during WWII but is not really a war movie and more of a drama than anything though a little more action happens near the end. Check this out on Instant Netflix.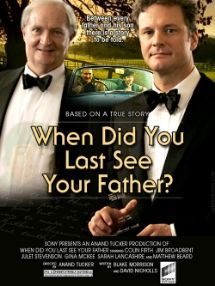 When Did You Last See Your Father? (2007): Arnand Tucker directs this film based on the book by Blake Morrison which is based on his life. Colin Firth stars as Blake Morrison whose father Arthur, played by Jim Broadbent, is diagnosed with terminal cancer. Blake leaves his wife and kids in order to take care of his father in his last days and trying to understand him more. Through the years, we see they have a very difficult relationship from childhood into his adulthood and does not seem to feel accepted by his father and maybe feelings of being in his father's shadow. This movie uses a lot of flashbacks to show the father/son relationship. I noticed the Broadbent and Firth were pretty well cast, having similar facial features and was very believable. This was a pretty simple and moving film of a father and son relationship.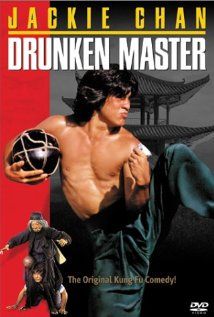 Drunken Master (1978): I continue with this martial arts film directed by Yuen Woo-Ping and starring a young Jackie Chan as a younger version of Chinese folk hero Wong Fei-Hung. Fei-Hung's father is looking to teach him Kung Fu but finds that he is too undisciplined and sends him to his rather cruel and strange uncle who teaches him the unusual style of drunken boxing where . He then puts this style to use when he returns home to stop an assassin from killing his father. I will admit, I have always had mixed opinions on Jackie Chan's slapstick style of martial arts. This had a lot of funny moments and good fight scenes. I personally prefer the 1994 sequel THE LEGEND OF THE DRUNKEN MASTER which is actually my favorite of Chan's. I did like in this movie, the use of Wong Fei-Hung theme song which is used a lot in the ONCE UPON A TIME IN CHINA films. This does provide some pretty good entertainment and is good to take a look at for a younger Chan. This is available on Crackle.
Comedy Central Roast of Pamela Anderson (2005): I end this week with what might be more like a tv special but since this is my blog and I am my own boss, I get to decide what gets included. This is a roast hosted by Jimmy Kimmel where the focus is towards Pamela Anderson. I remember growing up and in middle school always fantasizing about her and would usually watch BAYWATCH when getting home from school. The roasters on this night were her ex-husband Tommy Lee, Adam Corolla, Eddie Griffin, Sarah Silverman, Nick DiPaolo, Andy Dick, Greg Giraldo, GOLDEN GIRLS alum Bea Arthur, Elon Gold, Lisa Lampanelli, the Lady Bunny, Courtney Love, and recorded roasts from David Spade and Hugh Hefner. They take jabs at her on things like her acting, breast implants, the sex tape with Tommy Lee, and her heavy involvement with PETA. There is nothing that in politically incorrect nor is anything really held back. These people really enjoy what they do in roasting Pamela and the rest of the roasters. I do kind of respect that people can sit in that chair and take this stuff. I do not believe I could take this sort of thing nor would I be a very good roaster myself. In this, I was not aware that she wrote a novels called STAR and STAR STRUCK which was made very known by Bea Arthur. This was pretty entertaining and liked that Bea Arthur was on the roasting panel. If you are offended easy, this is not for you. The money made on this was donated to PETA.
Well, that is it for this week. Tell me what you like and what you don't like. Stay tuned for next week which so far includes more Al Pacino, Kim Basinger, Humphrey Bogart, Jack Lemmon, and many others. Read on as I returned with my "Movie Night at the Shera" segment.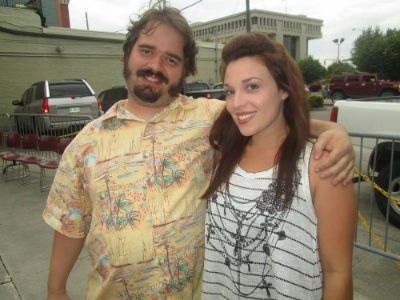 MOVIE NIGHT AT THE SHERA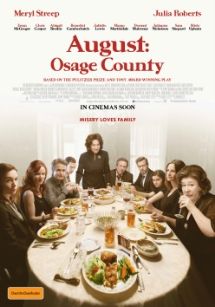 August: Osage County (2013): My friend Shera and I decided to get a movie for the night and went to a Redbox machine when out and about. We then agreed to check out this one. John Wells directed this film that is based on a play by Tracy Letts in which he wrote the screenplay to his own play. Meryl Streep stars as Violet Weston who has cancer and an addiction to pills and alcohol. Her three daughters Barbara, played by Julia Roberts, Ivy, played by Julianne Nicholson, and Karen, played by Juliette Lewis join her as well as the rest of the family after a tragedy. When the family gets together, many secrets get out and tensions go through the roof for this family. Chris Cooper, Abigail Breslin, Ewan McGregor, Margo Martindale, Sam Shepard, Dermot Mulroney, Benedict Cumberbatch, and Misty Upham all co-star. I enjoyed Cumberbatch in this film as someone who tries so hard to do right but has a hard time. This is not a very upbeat film at all but a very good portrait towards a dysfunctional family and the price of secrets. We both watched this movie, not really knowing what to expect. There were many times both of us cringed on scenes but enjoyed it for the most part. When it was over, we both discussed our feelings toward the end of the movie but won't go into detail on what was discussed seeing as this is not a spoiler blog. This was a very good cast, each character was developed pretty well. I would also like to see my local theater put this on as a play in the studio theater. This was not easy to watch but was pretty compelling and if looking for a really upbeat family comedy, this is not the one.