Welcome to the 440th Edition of my series. I hope everyone is having a good Easter and maybe just a good 4/20 if that is what is being celebrated. Our show is coming along very well and hope people in or near my area can make it out there. I will now get on with my selections for the week.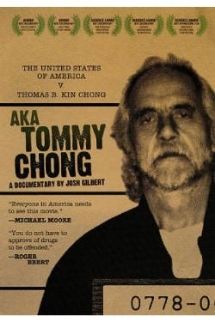 A/K/A Tommy Chong (2006): I start the week out with this documentary that I feel fits today's date of April 20th. Josh Gilbert directed this documentary that mainly focuses on the government case on Tommy Chong for selling bongs over the internet which ended him up in prison for nine months. This was a case started during the Bush administration and this documentary focuses on the ridiculousness of the witch hunt. For those who do not know, Tommy Chong was one half of the duo Cheech and Chong who were a rather groundbreaking comedy duo that became very controversial for they way they made humor out of marijuana. In addition to the government case, it also goes into some background on Tommy Chong's life like his early music career and the beginnings of when him and Cheech Marin met and formed that legendary comedy duo. It also talks about his stand-up comedy act that seemed to have formed from the government witch hunt. This is a very insightful and well done documentary which gives a whole new side to Tommy Chong that many may not know. This is available on the app Crackle.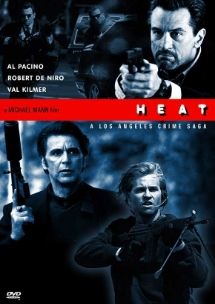 Heat (1995): I now bring part 7 of my Al Pacino series. Michael Mann wrote and directed where Al Pacino and Robert De Niro have their historic on-screen encounter. Notice I say "encounter" so I am not referring to them both being in THE GODFATHER PART II due to them playing characters in different eras. Al Pacino stars as Lt. Vincent Hanna who leads a robbery/homicide division investigating a series of robberies. Robert De Niro stars as Neil McCauley who leads the robbery crew which includes people like Val Kilmer, Tom Sizemore, and Danny Trejo. One of their robberies goes bad when their new guy, played by Kevin Gage, flies off the handle resulting in the deaths of police officers. The biggest focus this has is towards those two characters whose personal lives are rather similar and the respect they form for each other leading to a great climax. Jon Voight, Diane Venora, Ashley Judd, Mykelti Williamson, Wes Studi, Ted Levine, Dennis Haysbert, William Fichtner, Natalie Portman, Hank Azaria, Henry Rollins, Tone Loc, Jeremy Piven, Xander Berkeley, and many others co-star in this great cops and robbers film. This is partly based on a detective friend of Mann's and actual thief named Neil McCauley. This is a very compelling film that really holds nothing back and is rather moving at times behind all the violence.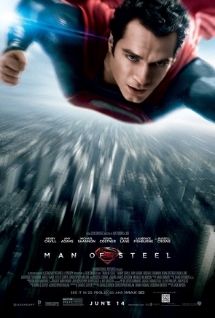 Man of Steel (2013): This is my superhero film for the week which was directed by Zack Snyder in this reboot to Superman. The first part of the film focuses on the fall of the planet Krypton and goes more in-depth than I have seen in the past. Russell Crowe plays Jor-El who struggles to save Krypton from their from the maniacal General Zod, played very well by Michael Shannon. Jor-El soon understands that to keep his newborn son safe, he must send him to planet Earth where I'm sure you can guess that he becomes Clark Kent, played by Henry Cavill. The next storyline focuses a lot on Clark Kent and his adopted father Jonathan Kent, played by Kevin Costner who also did a very good job. It shows Jonathan teaching Clark values but to also not expose his gift to anyone though Clark always felt compelled to help others in need. The next main storyline is Clark struggling to find himself and an encounter with reporter Lois Lane, played by Amy Adams, makers her see that he is not an ordinary man and is determined to learn more about him. The main storyline is of General Zod invading Earth and Clark being the only one who can match his strength leading him to being called Superman. This is possibly the best Superman approach so far in film and television. Cavill was well-cast in the role and put a lot of effort getting his body fit for the part. Diane Lane, Christopher Meloni, and Lawrence Fishburne co-star in this film. I was glad to see Meloni get a good role in a feature film like this after being part of a lot of tv shows like OZ and LAW AND ORDER: SVU. I know even a lot of anti-Superman fans really enjoyed this take to the legend. I also really like how it takes the approach of Superman just trying to help out where he can and not trying to be a hero and feel this movie did a great job of portraying that part of Superman. I also really liked Adams as Lois Lane and there was a more fearless approach to the character than has been done in the past. This is right now available on HBO On-Demand
Pest Control (1950): This is my comedy short for the week which is part of the Pete Smith Specialty short. Comedic actor Dave O'Brien stars in this short as a man dealing with human pests. One of them is him as a manager at an antique shop and had to deal with a child handing fragile merchandise. Another funny segment was a scene involving a fountain pen. This is not the best entry in the series but still very entertaining while still being a good entry into this series which gets shown on TCM a lot.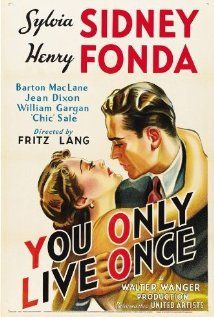 You Only Live Once (1937): Fritz Lang directs this film noir. Sylvia Sidney stars as Joan who is the secretary to a public defender, played by Barton MacLane, and is able to use her influence to get an early release of her lover Eddie Taylor, played by Henry Fonda. Eddie is a career criminal who Joan believes is a good person but has had a lot of bad breaks. Eddie gets his release and tries to go straight but finds that is not easy and they go on the lam together. Fonda and Sidney work very well together. This is a really good look at the difficulty of going straight and one that really took a challenge to the production code at the time. This is not the most upbeat movie of all time but is a very enjoyable one to watch that stands the test of time. This is available on Instant Netflix.
Quadrophenia (1979): Franc Roddam directed this film based on the album of the same name by the Who. This movie takes place in 1960s London. Phil Daniels stars as Jimmy who hates his job and does not have a very good relationship with his parents. He lives for his scooter and his mod mates and do battle with their rival mates the Rockers. He soon has a downward spiral into paranoia and isolation. This has a pretty good disturbing look to it and a good 60s soundtrack to go along with it including the introduction of the Who's LOVE REIGN O'ER ME. Sting and Ray Winstone co-star in this film. The Who produced this film and is based on their soundtrack but is not a musical film.
The Steel Helmet (1951): Samuel Fuller wrote and directed this Korean war film and was one of his earlier works. Gene Evans stars as Sergeant Zack and is aided by a young South Korean boy which he named Short Round, long before Indiana Jones had him as a sidekick. They encounter a group of American soldiers and look to get to a Buddhist temple which was believed to be abandoned. When arriving, they realize there is a group of North Koreans residing there and must fight for survival. This is the first Korean war film and is a very good one even with the very little budget that fuller had at the time. This was also during the time of the McCarthy era and was investigated by the FBI on what they felt were Pro-Communist moments. This is a very gritty and realistic look at the Korean war that did not need a big budget or big actors to succeed and still be relevant today.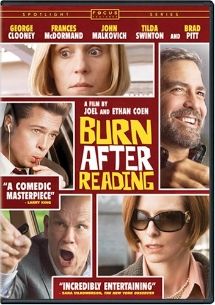 Burn After Reading (2008): The Coen Brothers wrote and directed this crime comedy which was even funnier and clever than expected but I know why I did not have higher expectations. John Malkovich stars as Osbourne Cox who gets fired from the CIA and decides to write a memoir. His disk falls out of his gym bag and two employees at the gym stumble upon it. Employees Chad, played by Brad Pitt, and Linda, played by Frances McDormand, come upon the disk and try to blackmail Osbourne with money into giving it back to him. George Clooney and Tilda Swinton also co-star in this caper. Pitt and McDormand are great especially McDormand who is unsatisfied with her body and wants plastic surgery which she finds the opportunity for money. However, they soon find they are way out of their league in trying to blackmail. I actually laughed many times during this rather dark comedy including McDormand accusing people of being negative when she is the one desperate for plastic surgery. J.K. Simmons and Richard Jenkins also co-star in this well-written comedy.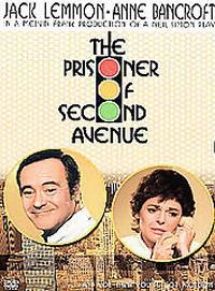 The Prisoner of Second Avenue (1975): Melvin Frank directed this adaptation of Neil Simon's play. I figured since I am busy with a Neil Simon show, this would be a good time to feature one of his movies. Jack Lemmon and Anne Bancroft star as married couple Mel and Edna Edison. Mel loses his job as an ad-executive causing him to have a nervous breakdown. Edna tries to help but also struggles herself. This is another comedy which manage to make humor out of serious situations. The actors work so well together and Lemmon does a great job showing a broad range of emotion. F. Murray Abraham and Sylvester Stallone both have early appearances with a very interesting encounter with Lemmon and Stallone. I feel this is a more underrated work of Simon and Lemmon and hope this can put it some on the radar. Please don't forget THE GOOD DOCTOR by Neil Simon on May 8th, 9th, and 10th in Lewisville, Indiana. Yes shameless plug but it's my blog and I have the right.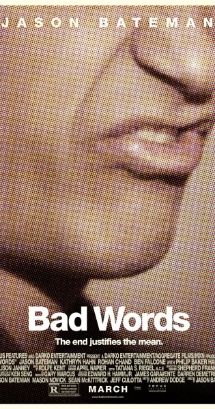 Bad Words (2013): I end with this comedy which stars Jason Bateman who makes his directorial debut while also starring. He plays 40 year old Guy Trilby who manages to find a loophole in a spelling bee contest which is supposed to be for 8th graders. Kathryn Hahn co-stars as Jenny who is a reporter trying to figure out his motivation for entering a contest. Guy is very ruthless and foul-mouthed as he moves his way up the spelling bee much to the dismay of officials and parents. He soon forms an unlikely friendship and partnership with the 10 year old Chaitanya, played by Rohan Chand, who is unfazed by Guy's personality. There were times I felt guilty laughing as Bateman was pretty unlikable but was still able to keep it as a funny movie and pull off being a jerk dealing with children. There were a lot of great interactions between Bateman and Chand. Beth Grant and Philip Baker Hall also co-star in this comedy. This was a very interesting comedy and might have been better than it should have been.
Well, that is it for this week. Tell me what you like and do not like and stay tuned for next week which so far includes Mena Suvari, more Al Pacino, Michelle Yeoh, the late Mickey Rooney, and many others.