Welcome to the 436th Edition of my series. I'd like to make a shout out to the new coffee shop in Downtown Muncie called the Caffeinery which opened this week. I went there this week and is really nice place and atmosphere. It is good to see a coffee shop open back up again and hope people in that area will support it. I've been busy in my rehearsals but still find time to get work done. I will now get to my recommendations for the week.
Angels in America (2003): This is part three of my Al Pacino series. I start the week out with this HBO mini-series which was directed by Mike Nichols and written by Tony Kushner who adapted his own play into this mini-series. There are multiple stories which come together in this tale that takes place in 1985 during the start of the AIDS crisis where no one really knew how to handle it. Al Pacino stars as attorney and right wing fixer Roy Cohn who has AIDS but tries to hide it and the lifestyle which lead to it. Patrick Wilson co-stars as Joe Pitt who is a republican candidate and Mormon who is in the closet and in a loveless marriage with Harper, played by Mary-Louise Parker, who has her own problems with pills. Justin Kirk co-stars as Prior Walter who has been out of the closet and learns he has AIDS. His lover for four years Louis, played by Ben Shenkman, bolts out. Prior must then deal with the breakup, the physical effects of his sickness and even an angel who is inviting him to be a prophet in death. Meryl Streep, Emma Thompson, Jeffrey Wright, James Cromwell, and many others co-star. This is a six-hour mini-series where they are separated by six episodes that are about an hour long. Streep, Thompson, and Wright were very good in their multiple roles with Streep even playing a rabbi at one point. The rest of the cast also did a very good job. This takes a very good look at our society at the time with the religious and political effects of the AIDS crisis. Kushner wrote the controversial play in 1993 and won a Pulitzer Prize for his efforts. This still remains very significant and compelling and is available on HBO On-Demand.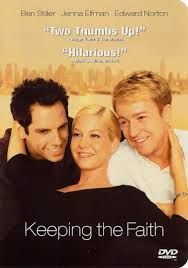 Keeping the Faith (2000): Seems like I'm taking a religious route this week and this is more the comedy. Ed Norton directed and co-stars in this comedy as Father Brian Finn. Ben Stiller co-stars as the more progressive rabbi Jake Schram. Despite their different religious backgrounds, Brian and Jake are childhood friends and remain that way into their adulthood. DHARMA AND GREG alum Jenna Elfman co-stars as Anna Riley who was their friend in childhood but had to move away. Anna returns to town and while they are able to catch up some tension arises. Jake forms feelings for Anna but must consider the ethics as she is not Jewish. Brian also has feelings for her even though he is a priest and is supposed to remain celibate. Anne Bancroft, Eli Wallach, Ron Rifkin, Milos Forman, Holland Taylor, Rena Sofer, and Stuart Blumberg co-star in this romantic comedy. Blumberg wrote the screenplay. This is a pretty fun romantic comedy with well-written characters and a very interesting love triangle. I also thought the three leads worked very well together. I also liked the way each of the guys had to deal with the superiors on the way they were trying to get their message across but making it more fun which did not always go over well. This is a good comedy with a lot of laughs but also making a bit of a statement.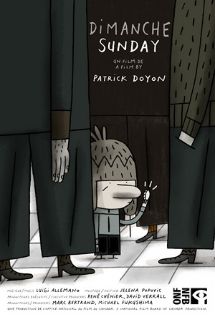 Dimanche/Sunday (2011): This is my animated short film for the week which was written and directed by Patrick Doyan. This is a short film from the perspective of a boy who appears to be very bored on a typical Sunday where he goes to church, goes to see Grandma and so on. He finds amusement in putting coins on a track, something a lot of people did in their childhood. The short is also a statement towards the industrial age and the effects it has like showing the factory being shut down. This is a simple but effective animated tale which was done in Canada. This is available on Starz On-Demand on the Oscar nominated short films from 2012 which contains all the nominated shorts from that year as well as the live-action shorts.
Images (1972): Robert Altman directed and wrote this thriller based on the book by Susannah York who stars as Cathryn. Cathryn is a schizophrenic housewife who is haunted by terrorizing apparitions and beings to kill them off not knowing the line between reality and fantasy. Rene Auberjonois co-stars as her husband Hugh who has a hard time understanding his wife. There is a very limited cast and York manages to really carry this movie which really focuses on the mind of a schizophrenic. This is a rare sort of film for Altman who I have never seen do a thriller like this one. York played the part to perfection and was very sympathetic despite being very disturbing. John Williams also wrote a really good and haunting music score that goes along perfectly with the tone of the film. It is really hard to explain this further but was a very well done thriller and deserves a look.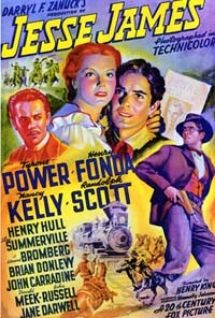 Jesse James (1939): This is part one of a two-part Henry Fonda series. Henry King directed this look into the life of the famed outlaw from the script written by Nunnally Johnson. Tyrone Power stars as the title character while Henry Fonda co-stars as his brother Frank. This is one of the first notable portrayal on the gang and immediately took to portraying these brothers as Robin Hood figures. In this movie, railroad agents are forcing people off their land including the James family which then makes Jesse resort to a life of crime they begin robbing banks and trains. If one is looking for historical accuracy, I do not believe we will get much here. I am more in favor of 2007 film THE ASSASSINATION OF JESSE JAMES BY THE COWARD ROBERT FORD which shows how his so-called heroism is surrounded by the hype. Another fact that is really irrelevant is that by the time James was killed by Ford, Frank had already left. John Carradine plays Ford in this movie and is portrayed more as an opportunist who is just looking to get a reward while the 2007 movie shows there was a lot more to the reasoning for Ford in his assassination of James. This movie is still a pretty compelling and even fun movie to watch despite being a pretty fictional account in many ways. Nancy Kelly, Randolph Scott, Henry Hull, Lon Chaney Jr., and Donald Meek all co-star in this film. This might have been the start to portraying outlaws as anti-heroes. This is a pretty good take to the legend of Jesse James and is enjoyable if you can accept it for what it is but then follow it up with the 2007 film mentioned.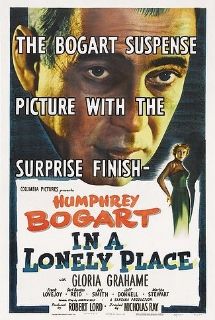 In a Lonely Place (1950): Nicholas Ray directed this film noir. Humphrey Bogart stars as struggling screenwriter Dixon Steele who has quite a temper and violent tendencies. He takes home a woman in order to tell him about a book he did not want to read and when she leaves she is murdered making Dixon a suspect. His neighbor Laurel Gray, played very well by Gloria Grahame, is able to give him an alibi to clear his name which starts a relationship between the two and their own investigation on who might have killed this person. Laurel slowly sees the violent tendencies toward Dixon and has no idea what to think. This is a much later movie for Bogart and possibly one of his best performances in his complex performance. Grahame also has a more toned down role from her typical tramp characters like in IT'S A WONDERFUL LIFE. This is a very suspenseful and compelling film with a great story, characters, and performances. This is availabled through the app Crackle and is really worth it.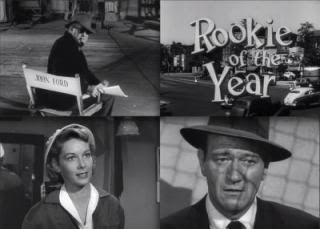 Rookie of the Year (1955): This is my older short for the week which is an episode of a tv series called SCREEN DIRECTORS PLAYHOUSE. John Ford made a rare television appearance as the director of this half hour show which starred John Wayne a sportswriter named Mike Cronin. He took interest in a rookie player named Lyn, played by John's own son Patrick Wayne, and recognizes him as the son of one of the players who was banned due to the Black Sox scandal. Ward Bond co-stars as Buck who is trying to start a new life and his kids do not know of his past. Mike is determined to get a story but must decide if it is the right thing. Vera Miles and James Gleason also co-star in this one. This was not a bad 30 minutes. This was on TCM On-Demand but I caught it on its last day. Looks like this is a pretty good show to look into.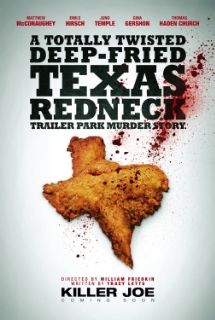 Killer Joe (2011): William Friedkin directs this movie which is based on a play by Tracy Letts. Emile Hirsch stars as Chris who is in a lot of debt. He learns that the mother he hates has a very high insurance premium and gets his father Ansel, played by Thomas Haden Church, who is now divorced from her to go along with his plan to have the mother knocked off. They learn of Joe Cooper, played very well by Matthew McConaughey, who is a police detective but moonlights as a hitman. They are not able to pay him up front like he wants to he takes Chris's sister Dottie, played by Juno Temple, as a retainer until he is fully paid. Gina Gershon co-stars as Ansel's current wife Sharla who is also very significant to what is happening. When things go fourth, everything that can go wrong, goes wrong. This is quite violent and is not for everyone but I was just glued to the screen in intrigue. I would be interested to see what it would be like to see the play version of this and would be very interested to be in it so I say Muncie Civic Theater needs to look to get it to their studio theater.
Death Race 2000 (1975): I continue my unusual selections and bring this one produced by Roger Corman and directed by Paul Bartel. This takes place in a dystopian future during an annual brutal car race where not only are you trying to win by going over the finish line but collecting points by killing pedestrians. David Carradine stars as their most famous driver going by Frankenstein who not only must deal with his rival drivers but also a resistance group trying to stop the race. Sylvester Stallone co-stars in an earlier role as Machine Gun Joe who is more the villain of the film. The Jason Statham movie of the same name is a remake but not quite the same. This one was more of a satire and a lot weirder. This is not for everyone but is enjoyable if you can suspend your disbelief and tolerate a sick society who takes pleasure in pedestrians dying. In looking into the making of this movie, I learned the cars didn't run most of the time so had to be pushed a lot of the time but a great job making it look believable This is available on Instant Netflix.
The Waiting Room (2012): I end the week with this documentary directed by Peter Nicks. This takes a look at an Emergency Room in Oakland where the employees struggle to get through everyone in the waiting room and much of whom are uninsured. Much of this is taking a look at certain patients showing their concern and frustration of what they are going through. It also shows a hard-working staff who is doing the best they can but have a lot of hard choices as well as red tape. This is a pretty straight-forward documentary and not shoved down one's throats like many documentaries. This is also available on Instant Netflix.
Well, that is it for this week. Tell me what you like and dislike and stay tuned for next week which so far includes Brad Pitt, more Al Pacino, Clark Gable, more Henry Fonda, and many others.