Welcome to the 430th Edition of my long running series. As most know, Philip Seymour Hoffman died. It was very unfortunate that he did not seem to be happy and resorted to drugs. I already had this done by the time he died but will be featuring him next week. Also, later this evening, my friend Craig will be hosting karaoke from 6-9 pm at Valhalla in Downtown Muncie. He was the karaoke DJ before Folly Moon went under and now gets to return so if you are not doing anything on Sunday evening come out and support this so we can increase the chances of it going on a regular basis. He then hosts trivia from 6-9 pm on Monday at the Heorot so come to that as well. I will now get to my movie recommendations for the week.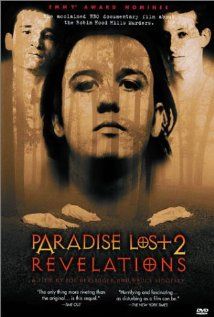 Paradise Lost 2: Revelations (2000): This is the continuation of the first documentary from 1996 which was featured last week. This continues to look at the "West Memphis Three" who were convicted of the murders of three eight year old children. This takes a look at the very questionable evidence of these boys and the possibility they are innocent. This also takes a look at the stepfather of one of the victims who really loves the camera, has had some legal issues, and evidence begins to even point at him. This is presented by HBO and takes a very good look at the flawed justice system and the prejudices of a town that keeps three possibly innocent people in prison. At some point I will be watching the third part of this documentary trilogy and really look forward to it. When watching the first one, watch this one right away.
Dick (1999): This is part one of a two-part Will Ferrell series. Andrew Fleming directed and co-wrote this comedic take on the fall of Richard Nixon though I think this is the most accurate movie version so far. Kirsten Dunst and Michelle Williams plays Betsy and Arlene who are naive and innocent best friends in high school. They are on a White House field trip and get lost from the group but soon meet Nixon, played by Dan Hedaya, whose administration believe the are spies and he gives them the job of being his dog walker and "secret advisers" to keep them in check. They soon accidentally stumble upon some suspicious activity and become the unlikely "Deep Throat" which has been a mystery for many years. Will Ferrell and Bruce McCulloch play reporters Bob Woodward and Carl Bernstein and in a far more comedic way than Robert Redford and Dustin Hoffman who played them in ALL THE PRESIDENT'S MEN which just happened to co-star Hedaya as Deep Throat. Teri Garr, Dave Foley, Jim Breuer, Ana Gasteyer, Harry Shearer, Saul Rubinek, Devon Gummersall, Ryan Reynolds, and G.D. Spradlin all co-star in this comedy. I really thought this was a very clever comedy towards the Deep Throat story with Hedaya pretty good as Nixon and the the two females stars who worked very good together. Williams had just started getting into the limelight with DAWSON'S CREEK and got to show her more comedic side in this one. This is available on the app Crackle.
Hanna (2011): Soairse Ronan stars as the title character who is a 16 year old girl who has been raised by her ex-CIA father Erik, played by Eric Bana, to be the perfect assassin. Her father soon sends her off on a mission but must elude ruthless operatives lead by Cate Blanchett and also learns more and more about her own mysterious past. This movie is very well shot and is a really good spy story. Ronan plays the title character very well and worked very hard in preparation for her role like lots of fight training as she did her own training. It also has a very good soundtrack from the Chemical Brothers to go along with the movie. This has some really good action scenes and even has a rather moving story behind all the violence.
Just What I Needed (1955): This is my short film for the week that takes a look at "unwanted gifts". This is part of the Pete Smith Specialty series which stars Dave O'Brien as Harry who gets a lot of gifts he has no idea what to do. This is a pretty funny entry into the series which put out many comedy shorts in this era.
Small Town Girl (1936): William Wellman directed this film which stars Janet Gaynor and Robert Taylor. Gaynor plays Kay who is a small town girl like the title says who feels her life is dull. She soon meets Bob, played by Taylor, who is a rich man and at the time is drunk and proposing marriage. She finally consents to getting married but the next day when Bob is sober he regrets the decision. His parents make them stay married for at least 6 months to avoid bad publicity. James Stewart is very amusing in his early role as Elmer who has a thing for Kay but she does not seem to return that to him. This is a pretty decent romantic comedy and probably rather daring for its time.
The Belle of Amherst (1976): This is my live tv movie for the week which was a one woman show starring Julie Harris as poet Emily Dickinson. Dickinson was known as a reclusive person whose poetry was not published much in her lifetime due to it being very unconventional at the time. The character reflects on her life through her poetry, letters, and notes. Harris does a great job of conveying Dickinson with some comedic and dramatic parts. This is a very informative and entertaining look at Dickinson which is available on Instant Netflix.
Dallas Buyers Club (2013): I'm trying to include more movies that are currently in theaters so this is what I use for this week. Jean-Marc Vallee directs this biopic on Ron Woodroof, played very well by a rather unrecognizable Matthew McConaughey. Woodroof was an electrician and hustler in 1985 Dallas who is diagnosed with AIDS. This was at a time when it was just getting out in the open and at the time people seemed to think that only people who are gay could get it so he had a very hard time understanding and believing he had it but learned that people who do drugs can get it to which he did. He then does research to see how it can be treated and finds a lot of medicines that could be good but are not approved. The only drug approved at the time was AZT which he believed had a lot of problems. When in the hospital, he meets the flamboyant and cross-dressing Rayon, played very well by Jared Leto, who also has AIDS and agrees to partner with Woodroof in order to get other patients the drugs that they need to survive. Woodroof must also get past his homophobia to work effectively. Jennifer Garner also stars as Eve who is a doctor but slowly begins to side with Woodroof on his illegal dealing of drugs. Steve Zahn, Griffin Dunne, Dennis O'Hare and many others co-star in this film. McConaughey put a lot of dedication losing a lot of weight for the role. Leto took a five year absence from acting and returned to this one. During filming, he stayed in character the whole time even cross dressing at the grocery store. I honestly did not know what to expect when I chose this movie to see in theaters but was glad to have gotten to see this well-done film.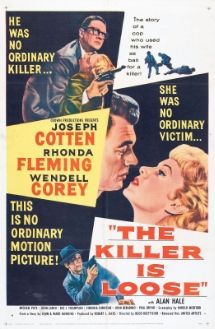 The Killer is Loose (1956): This is my film-noir for the week. Budd Boetticher directed this film. When a bank robbery happens, a teller named Leon Poole, played by Wendell Corey, is identified as the inside man. Upon his capture detective Sam Wagner, played by Joseph Cotton, accidentally Leon's wife. After three years in prison, Poole escapes and targets Wagner's wife, played by Rhonda Fleming, in revenge. I always like these kinds of films and are usually my favorites from this era. This is very dark, gritty and suspenseful and most movies like these go overlooked but I try to give them exposure. This is available on Instant Netflix.
The Atomic Brain (1963): I decided to use an episode of MYSTERY SCIENCE THEATER 3000 this week. In this one, a very unscrupulous older woman schemes to get her brain transplanted with a sexy woman's. I don't think I really need to go into much more detail except there was a really weird use of voiceover which was commented upon a lot. Lately, I have been using MST3K episodes with the original star Joel Hodgson but this one features Mike Nelson. Mike, Crow and Tom Servo cracked a lot of great jokes. This one of those to invite some friends and have your own MST3K or Rifftrax. This is available on Instant Netflix and they watch a very bad short film on Juvenile Delinquency.
Role Models (2008): I end with this comedy from David Wain. Paul Rudd and Seann William Scott star in this comedy as Danny and Wheeler. They are energy drink salesmen who then get sentenced to community service which they are assigned to a Big Brother type of program which does not really fit them very well. Danny is a very depressed person and hates life while Wheeler looks to seduce every girl he can. Danny gets assigned a misunderstood teen, played by Christopher Mintz-Plasse, who loves the medieval reenactments while Wheeler gets assigned a very foul-mouthed black child, played by Bobb'e J. Thompson. They must learn how to connect with these kids in order to avoid jail time. Jane Lynch, Ken Jeong, Louis C.K., and Elizabeth Banks co-star in this comedy. I really thought this delivered a lot of laughs and has a pretty good message in the end. The leads work well together and I really liked the medieval times of the movie. Also, the energy drink presentation was pretty funny in my mind as well. This is a well-done comedy that is worth a look.
Well, that is it for this week. Tell me what you like and what you dislike. Stay tuned for next week which so far includes Steven Seagal, more Will Ferrell, the late Philip Seymour Hoffman, Humphrey Bogart, and many others.
FUN AND USELESS FACTS
MARVEL FRANCHISE
-Kirsten Dunst (Dick) plays Mary Jane in the Sam Raimi Spider-Man trilogy.
-Ryan Reynolds (Dick) plays Wade Wilson in the 2009 movie X-MEN: ORIGINS and will become Deadpool in an upcoming movie.
-Saoirse Ronan (Hanna) is rumored to be in the upcoming 2015 THE FANTASTIC FOUR so assuming she will possibly be Invisible Woman if true.
-Eric Bana (Hanna) plays Bruce Banner aka Hulk in the 2003 movie HULK.
-Jennifer Garner (Dallas Buyers Club) plays Elektra in the 2003 movie DAREDEVIL and the 2005 movie ELEKTRA
-Paul Rudd (Role Models) will be playing Ant-Man in the upcoming 2015 movie ANT-MAN
Michelle Williams (Dick) and Cate Blanchett (Hanna) were in the 2007 film I'M NOT THERE.
Dan Hedaya (Dick) and Paul Rudd (Role Models) were in the 1995 movie CLUELESS.
Will Ferrell (Dick) and Jane Lynch (Role Models) were son and mother in TALLADEGA NIGHTS: THE BALLAD OF RICKY BOBBY.
Devon Gummersall (Dick) and Jared Leto (Dallas Buyers Club) were in the tv series MY SO-CALLED LIFE.
Devon Gummersall (Dick) and Jennifer Garner (Dallas Buyers Club) played small but significant stints in the tv series FELICITY.
Ryan Reynolds (Dick) and Denis O'Hare (Dallas Buyers Club) were in the 2009 movie THE PROPOSAL.
James Stewart (Small Town Girl) and Wendell Corey (The Killer is Loose) were in the 1954 film REAR WINDOW.