Welcome to the 431st Edition of my long running series. I will likely be releasing this later in the day for awhile since I now work 9-5:30 which I took to get back my day shift. I have a few auditions lined up so will keep posted on that while we are going. I hope everyone had a good Valentine's Day. I will now get on with my selections for the week.
The Onion Movie (2008): I start out with this movie adaptation of the satirical news organization. Len Cariou stars as the anchorman Norm Archer who broadcasts the news but must also deal with the corporate sponsor and the program commercials. This movie mostly had a variety of segments, some really good, some not as good. Steven Seagal is rather amusing playing himself promoting his movie COCK PUNCHER. Michael Bolton and LOST alum Daniel Dae Kim have cameos as well. To really appreciate a movie like this, you must get into the onion first so check out their website at http://www.theonion.com. This is a fun movie if it's not taken too seriously.
Megamind (2010): I now go to some Dreamworks animation and part two of my two-part Will Ferrell series. Ferrell voices the part of the title character who is the local supervillain. He soon defeats his nemesis Metro Man, voiced by Brad Pitt, but finds now that he has no one else to fight. He then decides to create himself a foe which backfires when that person tries to destroy the world and Megamind must fix what he started. Tina Fey, Jonah Hill, David Cross, Justin Theroux, J.K. Simmons, and Ben Stiller provide voices in this animated film. This does deliver a lot of good laughs and is a pretty clever story while being a good homage to the superhero genre. This is a good one for the family to watch.
The Master (2012): I now get a little more serious on this by bringing some Paul Thomas Anderson and my tribute to Philip Seymour Hoffman who unfortunately left us recently. Joaquin Phoenix stars as Freddie Quell who is a WWII veteran returning home but does not adjust well as he has some flashbacks and turns a lot to alcohol. He soon meets up with the very charismatic Lancaster Dodd, played by Hoffman, who leads a cult-like group called the Cause. Freddie then takes part in exercises to clear his emotions but may not be the answers he is looking for in the end. Amy Adams also co-stars in this film. The character of Lancaster Dodd was partially based upon Scientology founder L. Ron Hubbard. This is Phoenix's return to film after an unsuccessful pursuit of a rap career and made a great return giving a great performance of a veteran with PTSD. It is really hard to describe the film but is very powerful and rewarding in the end.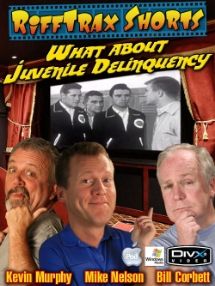 What About Juvenile Delinquency? (1955): This is my short film for the week and came from last week's episode of MYSTERY SCIENCE THEATER 3000 that I featured last week. In the later years of the show, they would first get a little bad short film which were mostly the intended education videos so this gives an idea of what to expect. This takes a look at juvenile delinquency from that era, yes it existed in those days. I will just say that this is part of the episode which features THE ATOMIC BRAIN and is available on Instant Netflix.
Black Legion (1937): Archie Mayo directed this gritty film which is Humphrey Bogart's first starring role. Bogart plays hard-working machinist Frank Taylor who expects to be promoted to foreman but loses it to a Polish man. He is soon convinced to join the group of the title which is a Ku Klux Klan sort of group who intimidates foreigners. It becomes too late when realizing it is not a very good group to be a part of. This movie really stands time and makes quite a statement which is relevant today. A lot of times when we think of this sort of group, we think of racism towards blacks but it was just prejudice towards foreigners in general. This is a very compelling film which really deserves a look.
Blast of Silence (1961): This is my Criterion Collection selection for the week. Allen Baron wrote, directed, and stars in this gritty look into the life of an assassin. Baron plays Frank Bono who returns to his New York home on a job to kill a mid-level mobster but must deal with a fat gun dealer and a girl from his past. Meeting this girl gives him second thoughts on his profession but leaving it is no easy deal either. Baron does a great job as Bono and works very well with the low budget to make it quite authentic. It also has a really good narrative to it. This is one that deserves more exposure and hope I can get it what it deserves here.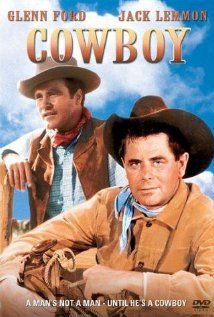 Cowboy (1958): This is my western for the week which was directed by Delmer Daves and based on the book by Frank Harris. The start of this week looked more into comedy, then I went through violence and darkness so now I get into a little more of a balance here. Jack Lemmon stars as hotel desk clerk Frank Harris which is semi-autobiographical to the author. Frank dreams of being a cowboy and soon joins a cattle driving outfit lead by the cold Tom Reece, played by Glenn Ford. Frank was also in pursuit of a woman, played by Anna Kashfi, whose father did not approve. Tom was the more ruthless but realistic person while Frank was the most idealistic but as we get into the movie, their roles really begin to change which I found to be a very intriguing part of this western. Dick York and Richard Jaeckel also co-star in this western. This is one of the DVDs my dad got me for Christmas.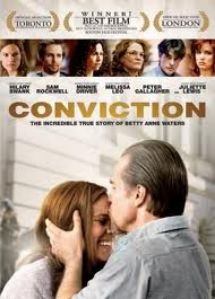 Conviction (2010): I now bring a more inspirational film and one based on a true story which was directed by Tony Goldwyn. Sam Rockwell stars as small-town man Kenny Waters who has always been in trouble with the law but then gets wrongly accused and convicted of murder. Hilary Swank co-stars as his sister Betty Anne Waters who is a high school dropout and works at a bar while raising two sons as a single mother. In the love for her brother she decides to put herself through law school and dedicates nearly two decades of her life proving her innocence. Peter Gallagher co-stars as attorney Barry Scheck who is most known for being one of the attorneys in the O.J. Simpson trial but is also the co-founder of the Innocence project which Betty Anne turns to for help. Melissa Leo, Minnie Driver, Clea Duvall, and Juliette Lewis all co-star in this film. Also, my Facebook friend and actress on the rise Alana Jo Beckman is an extra in the barn scene which was a scene of a few kids playing together and can be seen in a green dress. Rockwell and Swank work very well together and give good performances. I also liked Juliette Lewis in her small role and how well she played her scenes that were 18 years apart from each other and really showing the aging in her looks, voice, and mannerisms. The real-life Betty Waters has praised this movie. This is a very compelling watch that went onto be rather underrated.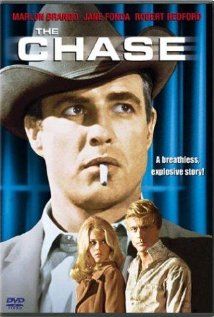 The Chase (1966): Arthur Penn directs this movie adaptation of a play by Horton Foote. Robert Redford stars as prison escapee Bubber Reeves who is preparing to return to his small southern town he is from. Marlon Brando co-stars as Sheriff Calder who begrudgingly works his job as the sheriff and looks to bring in Reeves alive but must deal with a local mob among other locals who are threatened by Reeves. Jane Fonda, Angie Dickinson, Robert Duvall, Miriam Hopkins, E.G. Marshall, and many co-star in this film. A lot of this is a really good look at a small town and then we must see how people in a small town deal with an event that is happening and became very compelling. This is available on the Crackle app.
Mitt (2014): I now end the week with this documentary which is a Netflix original. This takes a look at former Republican presidential candidate Mitt Romney and mostly his unsuccessful 2012 campaign but also his 2008 campaign which put him more in the limelight of politics. I'm not going to start labeling myself as I really do not consider myself a democrat or republican. The main focus of this documentary is showing Romney getting through these campaigns along with his family who seem to be his main advisers which include his wife and children. It also showed Romney in a different light but on the other hand, I guess I never really knew much about him since I tend not to get very political. If you are expecting some bashing towards Obama, this really is not it and really focuses more on his rivalry with McCain. I think this can be likable for both democrats and republicans and this is available on Instant Netflix.
Well, that is it for this week. Stay tuned for next week which so far includes Mark Wahlberg, Rita Hayworth, and many others.