Welcome to the 429th Edition of my series. With the Super Bowl tonight, I will likely lean more towards the Broncos but want a good and close game. I hope next year will be better for both my fantasy team and my real team of the 49ers who had a good year but came up short. I am also sad to report that my favorite bar the Folly Moon has shut down. It was a bar that I feel I really fit in and have never had a bar like that before but hope to find another really good hangout. My social life really improved at the place after meeting many new friends and becoming closer to others and hope to keep it that way though I do put this out all the time. I will now get to my recommendations for the week.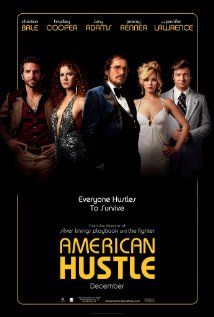 American Hustle (2013): I start the week out with this award winning film directed by David O. Russell who repeats his success from last year from SILVER LININGS PLAYBOOK and reuniting actors Jennifer Lawrence, Bradley Cooper, and Robert De Niro who appears in this movie uncredited. Christian Bale stars as con man Irving Rosenfeld who along with his partner Sydney Prosser, played very well by Amy Adams, are forced to work for wild FBI agent Richie DiMaso to help bring down members of the mob and corrupt politicians. Jennifer Lawrence co-stars as Irving's estranged wife Rosalyn who Irving is reluctant to leave due to their son and Rosalyn not granting a divorce. This is rather hard to really describe into words. It is loosely based on the Abscam sting by the FBI. This does not claim to be anything really accurate as a disclaimer happens in the beginning saying "Some of this happened." This was a pretty fun film and Lawrence was great in her role as well as the others. Christian Bale gained quite a bit of weight for his role which was the opposite for his 2004 film THE MACHINIST. I might not have known Bale if I didn't already know he was in the movie. Jeremy Renner, Louis C.K., Jack Huston, Michael Pena, Elizabeth Rohm, Alessandro Nivola, and many others co-star in this film. I enjoyed Russell's film from last year more but this was still very enjoyable and interesting for me.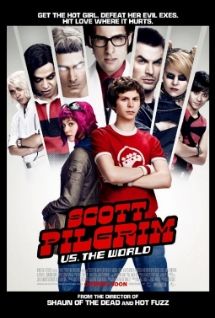 Scott Pilgrim vs. the World (2010): Edgar Wright directed this homage to the world of video gaming. ARRESTED DEVELOPMENT alum Michael Cera stars as the title character who develops a crush for a girl named Ramona, played by Mary Elizabeth Winstead, but must battle her seven exes in order to win her over which include the likes of Brandon Routh, Jason Schwartzman, and Chris Evans. Each fight is a different video game style fight and each one is quite a bit different making it all the more fun. Anna Kendrick, Kieran Culkin, Aubrey Plaza, Ellen Wong, and many others co-star in this film. Thomas Jane makes an uncreditted appearance. This was a very well done and very fun film that had good action scenes, a lot of comedy, and a good soundtrack. I believe this is Cera's best movie and a great homage to the video game world we grew up in.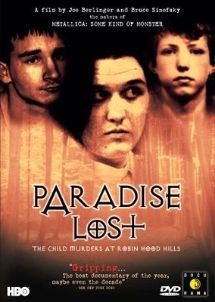 Paradise Lost: The Child Murders at Robin Hood Hills (1996): This is my documentary of the week per the suggestion of my Facebook friend Chris. This is an HBO documentary which was directed by Joe Berlinger and Bruce Sinofsky which takes a look at the horrific murder of three eight year old boys in West Memphis. It then takes a look at the three late teens arrested which was supposedly at the result of the occult. There are interviews with the suspects and the parents on each side. It then goes into the trial which begins to have questionable evidence. This is not really for everyone, especially in the beginning with the images of the dead bodies. It does take a good look into the system and even the flaws. It also has an interesting use of soundtrack from Metallica. This is a fairly unbiased documentary and really keeps the interest in the two and a half hours of this movie. This is part one of a documentary trilogy and I intend to look into the other two in the coming weeks.
You, John Jones (1943): This is my short film for the week which was directed by Mervyn Leroy. James Cagney stars as the title character who is called way on an air raid alarm when his daughter, played by Margaret O'Brien, is saying the Gettysburg Address. While sitting on a bench when nothing happens, God shows him what it would be like for his daughter if she had been in other countries. Ann Sothern stars as the wife of John. This is obviously WWII propaganda where established actors are starring in a short film. It is a bit morbid when he imagines each country and how horrible off his daughter would be if she was there so we see how Margaret O'Brien would suffer in about seven different countries. This is a rather interesting short film and is on the YANKEE DOODLE DANDY dvd set.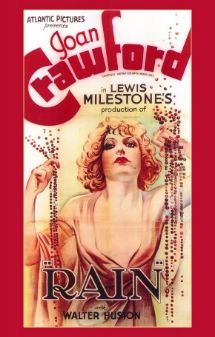 Rain (1932): Lewis Milestone directed this film which stars Joan Crawford and was possibly her star-making role. This takes place on a south seas island called Pago Pago. Crawford stars as prostitute Sadie Thompson who is enjoying herself on the island until a missionary named Mr. Davidson, played by Walter Huston, confronts her and does not like her behavior and in a ruthless way tries to get her what would be redemption in her mind. The scenery is great, especially for this time of year. Huston is very good as the sinister preacher and Crawford was really good as well. This is something I recorded on TCM during the Joan Crawford marathon.
Targets (1968): Peter Bogdanovich directs and co-stars in this thriller. Boris Karloff stars as Byron Orlok who is an aging horror movie star but ready to get out of the business. On the other story, Tim O'Kelly stars as Bobby Thompson who is a Vietnam Veteran and decides to go on a killing spree which then bring the two stories together. This was a very interesting movie where Karloff plays an actor who cannot adjust to the changing times of the horror genre. The actions of Bobby are based on the real life Charles Whitman who is known as the University of Texas sniper. The climax at the end was great. Bogdanovich made his directorial debut and was working under Roger Corman who told him he could make any movie as long as he uses stock footage from THE TERROR and casts Boris Karloff. He did both and made the most of his request turning it into an interesting and underrated movie.
The Garment Jungle (1957): This is a DVD my dad got me for Christmas. Vincent Sherman directed this dark film towards the garment industry. Lee J. Cobb stars as Walter Mitchell who owns the garment place and does whatever possible to keep out the unions. Soon, his son Alan, played by Kerwin Mathews, joins the place and learns that the business is being run by the mob. Alan soon looks to work with a labor union being lead by Tulio, played by Robert Loggia, and tries to convince his father that his business practice is wrong. This is a really gritty crime drama with a great statement and has unfortunately flown under the radar. Hopefully this can get this movie more exposure.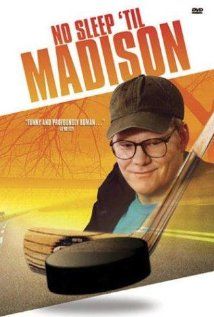 No Sleep 'Til Madison (2002): This is my hockey comedy for the week which stars Jim Gaffigan as Owen. He is a big hockey fan and loves high school hockey and along with reluctant friends, he annually goes to the Wisconsin State High School Tournament which results in an annual road trip. In this year, he finds that his friends have lives and which slowly lead them away from the road trip. Owen then must look into his priorities in live and reevaluate his hockey obsession. This was a very fun comedy with pretty well written characters and has quite a bit of laughs. It also has a more serious storyline of growing up. I got this on DVD from Netflix and is some really good, early work with Gaffigan after using a few of his movies where he is a supporting character the last few weeks.
Blacula (1972): Now I go into some vampire Blaxploitation. William Marshall stars as the title character who is an African prince and is turned by Count Dracula himself into a vampire and being locked in a coffin. He then ends up in modern-day Los Angeles where his coffin is opened and he is on the loose. Soon, he discovers a woman who appears to be his late wife reincarnated and wreaks havoc in L.A. while pursuing his reincarnated wife. I don't think I need to give much more explanation than that. This is a rather clever and fun movie if you don't take it too seriously. This is available on Instant Netflix.
Thelma and Louise (1991): Ridley Scott directed this female buddy movie. Geena Davis and Susan Sarandon star as the title characters. Thelma is a housewife in a loveless marriage to her controlling husband, played by Christopher McDonald, and Louise is a waitress who has problems with her boyfriend Jimmy, played by Michael Madsen, who is on the road all the time. They are best friends and decide to hit the road. While on the road, things go awry when Louise kills a man who tried to rape Thelma and go on the run. They soon flee and head for Mexico while being pursued by the police and doing things that get them in even more trouble. Harvey Keitel and Brad Pitt co-star in this film. This is a pretty good road movie which have both serious and funny moments in it with a really good climax. This is available on Instant Netflix.
Well, that is all for this week. Tell me what you like and dislike. Stay tuned for next week which so far includes Kirsten Dunst, Cate Blanchett, James Cagney, James Stewart, Jennifer Garner, and many others.