Welcome to the 427th Edition of my series. This weather is driving me nuts. I like my state of Indiana but this time of year would love to live in Florida. I know it is temporary though and will just live day by day knowing the warm weather will come. This evening, my San Francisco 49ers return to Seattle for the NFC championship where they were blown out earlier in the year but hope they can adjust and overcome that Seattle curse. I will now get to my recommendations for the week.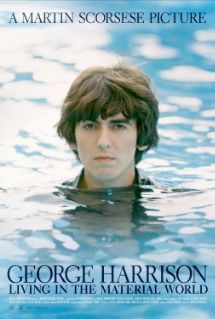 George Harrison: Living in the Material World (2011): I start the week out with this music documentary directed by Martin Scorsese. I have been using a lot of music documentaries lately and may continue to do so for a few weeks. For those who don't know, George Harrison was a part of that British group the Beatles as their lead guitarist. This documents his early days where he meets his bandmates in the Beatles. It then shows his work as a solo artist, his work with musician Ravi Shankar, his time with the Traveling Wilburys, among other parts of his life. Harrison died in 2001 and much of his friends and family reflect on their times with with Harrison. This is a very informative documentary which take a very good look at the ups and downs of the former Beatle. This is available on HBO On-Demand.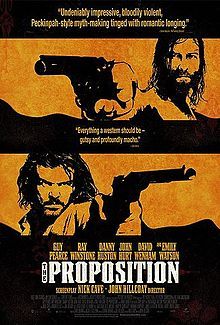 The Proposition (2005): This is my western for the week which was directed by John Hillcoat and written by Nick Cave who is most known for this band Nick Cave and the Bad Seeds though Cave is becoming a jack of all trades showing his ability to write a screenplay. This takes place in 19th century rural Australia where lawman Captain Stanley, played by Ray Winstone, captures two of Burns brothers in Charlie and Mike, played by Guy Pierce and Richard Wilson, who held responsible for a raid on the farm. Their older brother and the mastermind of the raid Arthur, played by Danny Huston, is still at large. Stanley then propositions Charlie into killing Arthur which will get him and Mike a pardon if he can do it in nine days. There are quite a bit of holiday elements so I wish I knew that and I would have posted it last month but glad to have seen it. John Hurt and Emily Watson co-star in this film. The acting, cinematography, and music score really work for this film to look very authentic. Cave is one of my favorite musicians but has made quite a mark in the film industry and this is a very good one here.
Get Low (2009): Aaron Schneider directed this film based on the real-life Felix Bush. This takes place in 1930s Tennessee where Robert Duvall stars as the hermit Bush who is a rather mysterious person and hires a funeral director named Frank, played by Bill Murray, to have a funeral while he is still alive so that he can hear what people have to say about him. Lucas Black co-stars as Frank's employee who tries to promote the funeral and get everyone there. Sissy Spacek and Bill Cobbs co-star in this independent comedy-drama. This was a rather odd but fun and moving film with a great performance from Duvall as well as the others.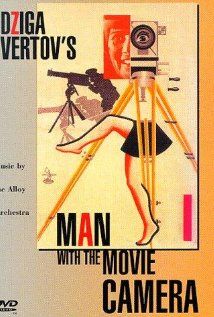 Man with a Movie Camera (1929): Dziga Vertov directed this silent documentary film which takes a look at a day in the Soviet Union. It takes a look at everyday city life to the point of showing an audience watching the film as well as even the editing. This is more of a visual film which has very fitting music scores for each one. The footage and the camera work was absolutely amazing. This is available on Instant Netflix and Amazon Prime.
Have You Ever Wondered? (1947): This is my short film for the week which is a comedy short from Pete Smith. This in a comedic way takes a look at questions about driving, gumballs, food combinations, and even knocking on wood. The questions are rather stupid but still some funny moments into this entry into many shorts from Pete Smith.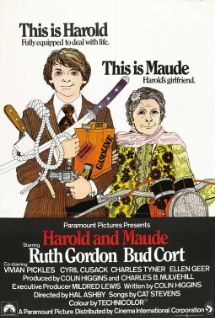 Harold and Maude (1971): Hal Ashby directed this cult classic which stars Bud Cort and Ruth Gordon as the title characters. Harold is I believe 18 years of age and has grown up in a very rich family but does not seem to fit in with them. He spends his time staging suicide tableau situations and going to funerals. Maude is a very free spirited woman who is almost 80 years of age and she also seems to like funerals. The two of them meet at a funeral and form an unusual relationship with a bit of an age difference. Vivian Pickles co-stars as Harold's mother who tries to find her son a future wife through a dating service but Harold clearly does not want it. I suppose this could be considered a coming-of-age story for Harold. The two leads worked very well together and was a very well-written story. There is also a really good soundtrack from Cat Stevens. It contains some funny moments but also good themes of love and life. This is available on Amazon Prime.
King Dinosaur (1955): This is a selection from MYSTERY SCIENCE THEATER 3000. Let me see if I can even explain this movie. Four scientists are sent to visit Planet Nova which is moving into our solar system. They soon encounter dinosaurs which really looked more like regular lizards. I never really found a dinosaur that could believably be called "King Dinosaur". This is the perfect movie to punish Joel, Crow, and Tom Servo to watch. This is available on Amazon Prime.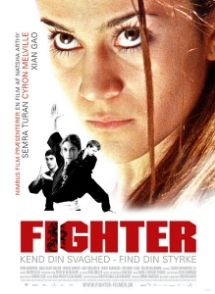 Fighter (2007): This is not that really good movie with Mark Wahlberg. This movie was actually made in Denmark and directed by Natasha Arthy. Semra Turan stars as Aicha who is a Turkish girl who is determined to be a Kung Fu fighter at all costs even with her strict father expecting her to follow in her footsteps. She secretly joins a co-ed kung fu club and begins to fall in love with her teammate Emil, played by Cyron Melville, but must decide to continue her dream or to follow the Muslim family tradition. This is a nice little independent film of a girl who wants to break tradition and become a fighter but has a lot more than fighting and cultural divide. This was a pretty well crafted film with good fight scenes.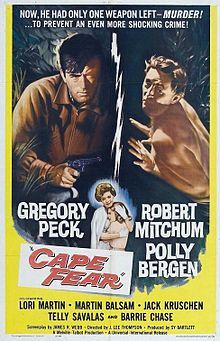 Cape Fear (1962): J. Lee Thompson directed this thriller based on the novel by John D. McDonald. Gregory Peck stars as small-town attorney Sam Bowden whose life becomes very difficult when ex-con Max Cady, played by Robert Mitchum, comes into town. Bowden helped put Cady behind bars so Cady does what he can to annoy him and his family then slowly becomes meaner. He most notably appears to be targeting his daughter Nancy, played by Lori Martin. Polly Bergen, Martin Balsam, and Telly Savalas co-star in this suspenseful film. It does a great job of unfolding in slowly building up to a very good climax. Mitchum did a great job in playing the part rather subtle, then becoming more psychotic. Many years later, Martin Scorsese directed a more intense version of this film and I feel both have their qualities. This one took a more subtle approach which worked very well though I liked the scenes between Cady and the daughter better in the remake. This is still worth a look and is available on the Comcast On-Demand free movies.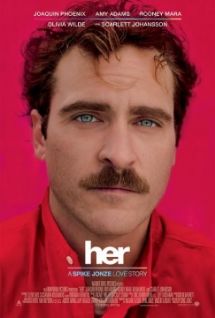 Her (2013): I end with this recent Spike Jonze film and made a rare appearance to the movie theater to see this one. After an unsuccessful pursuit of a rap career, Joaquin Phoenix turns in a great performance as Theodore who works as a letter writer and is a lonely man going through a divorce. He spends his life at home playing video games and sometimes being with friends. He soon decides to purchase an operating system called OS1 which is the first artificially intelligent operating system. He soon becomes drawn to the operating system which has a female voice which names herself Samantha, voiced by Scarlett Johansson. Samantha soon begins to understand Theodore more than anyone and they begin to fall in love even if he cannot physically be with her. This takes place in the future and while technological it does not portray a bleak future like a lot of movies do. Jonze has been able to really amaze me with movies like BEING JOHN MALKOVICH and ADAPTATION and this did not disappoint. This was a very unusual but very beautiful love story. Chris Pratt, Rooney Mara, Bill Hader, Kristen Wiig, Amy Adams, Olivia Wilde, Brian Cox, and many others either make appearances or provide voices. It may not have needed to be as long as it was but was still a really great movie in my opinion and is one of those I would rather go to a movie theater to see.
Well, that is it for this week. Tell me what you like and what you hate and stay tuned for next week which so far includes Drew Barrymore, Gwyneth Paltrow, D.W. Griffith, Mickey Rooney, Clive Owen, and many others.